The Dutch Prime Minister supports the Open Balkans: It will help when the negotiation chapters are opened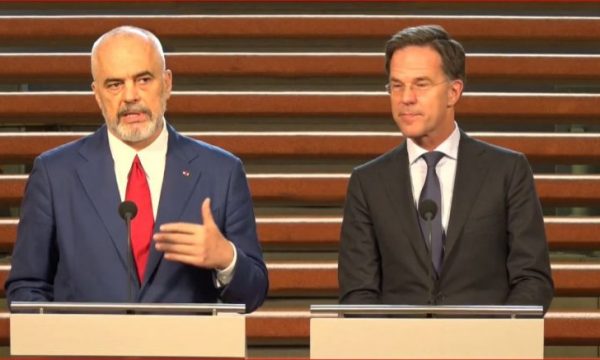 In the conference with Rama, the Dutch Prime Minister Mark Rutte has supported the Open Balkans, as an initiative that will help when the chapters of the negotiations are opened.
Asked why he has given support to the "Open Balkans" process, when this is not the official line of the EU, the Prime Minister of the Netherlands said that this cooperation initiative will help the region to move towards the EU faster.
"What I mentioned, the European community is a way to discuss other issues. We are all coming together in order to have a meeting of all European countries, with the exception of Belarus and Russia.
Considering how far we have come with North Macedonia, we want to sit down and poke each other in the eye.
For the Open Balkans, everything that can be done, I think that under the leadership of Rama, the fact that this initiative has moved forward, is positive. I recommend any platform that makes countries discuss as something positive.
The idea is to move to a free trade zone and this will also help when the negotiation chapters are opened. It ensures that tensions do not become unbearable. This requires leadership"tha Rutte.