After Mickoski, Kovacevski also meets Sela, he will present the French proposal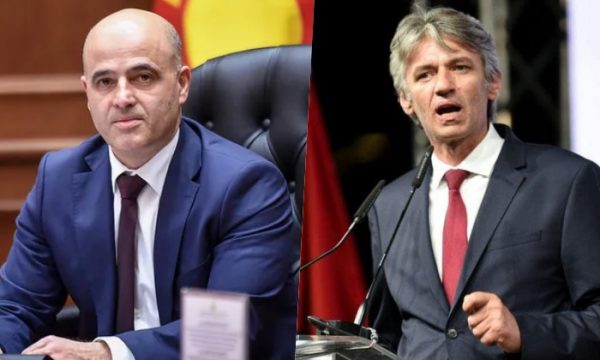 Consultations continue on the French proposal for the start of the framework negotiations of the Republic of North Macedonia with the European Union. A meeting of Prime Minister Dimitar Kovacevski with the leader of the Alliance for Albanians, Zijadin Sela, has been scheduled for today at 11 o'clock in the deputies' club.
Prime Minister Kovacevski yesterday in a statement to the media confirmed that he had a telephone conversation with Sela and warned that he will probably present the French proposal to him today.
Wide consultations on the French proposal began on Friday first with coalition partners in the Government, some of whom have already expressed their support for the proposal and some are expected to do so in the coming period.
Yesterday, Prime Minister Kovacevski also held a meeting with the leader of the largest opposition party, Hristijan Mickoski. For VMRO-DPMNE, the French proposal is unacceptable. After the meeting, Mickoski stated that he proposed two options to Kovacevski – to reject the proposal, while VMRO-DPMNE withdraws from the request for early parliamentary elections or if Kovacevski believes that the identity has been secured with the proposal, then four points should be deleted.
The French proposal yesterday was also reviewed by the Security Council which was convened by the President of the State Stevo Pendarovski, the Head of State after the press conference session declared that the French proposal is acceptable. With the acceptance of the proposal, as he quoted, we remove the Bulgarian blockade which lasts more than two years and formally allow the opening of negotiations after 17 years of waiting. The screening process is enabled, which is an obligatory stage before the talks on the clusters – chapters, and the most important thing, as he said, is that the Macedonian identity is not affected by anything, because the basic definition for the Macedonian language in the proposal has a clean formulation without footnotes.
The French proposal arrived in the country on Thursday, after which Prime Minister Kovacevski announced a broad consultative process with the government coalition, the president of the state, the Assembly, the opposition, as well as with the civil sector, experts and the general opinion in the country.