The girlfriend refused to meet him, the husband tries to "park" the truck in the room, crashes into the house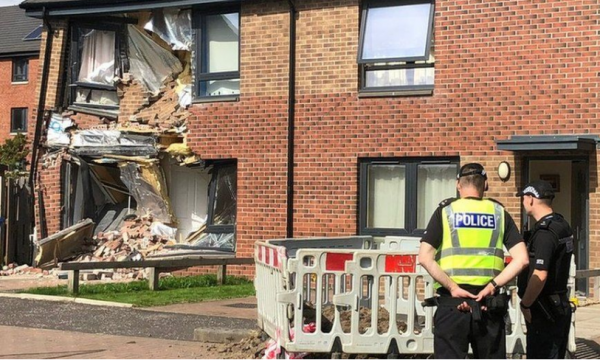 A lorry driver has admitted deliberately crashing his HGV into his girlfriend's home while their two children were inside.
Derek Wellington twice backed into the house in East Kilbride, South Lanarkshire, causing the residents of seven houses to be evacuated and two flats to be destroyed.
The damage bill came to £475,000.
Wellington pleaded guilty to a number of charges, including willful and reckless conduct endangering the lives of several persons.
The 34-year-old was on bail at the time after a previous incident where he attacked girlfriend Sara Cassidy in an Edinburgh hotel, writes the BBC.
He was told to stay away from the 33-year-old after he head-butted her, dragged her and slammed her against a wall.
But despite the court order, the pair resumed contact and he called her repeatedly on the day of the lorry incident.
The High Court in Glasgow heard Wellington had become angry after Ms Cassidy had refused to see him.
He had shouted to her on the phone: "I'll park my truck in your living room."
She later went out into the street near her home in Lancaster Crescent when she saw her partner attempting to enter the house in a lorry.
Prosecutor Lisa Gillespie QC told the court: "She told him not to enter the house because there were children there."
"Despite this, he declared that he would enter by any means."/Abcnews.al/