Lushtaku and his brothers went to confront the police who fined his son, how the attack happened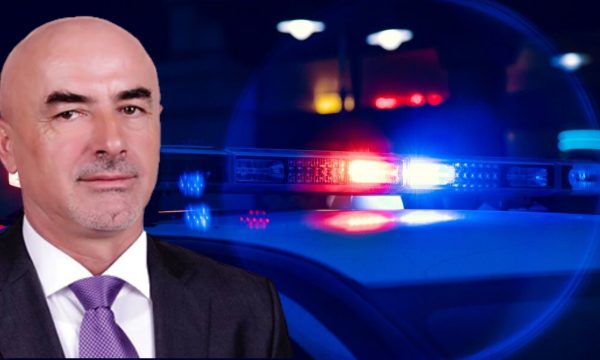 The fine for a traffic violation that the Police imposed last night on Arbër Lushtak, the son of the former vice-president of Skenderaj, Nuredin Lushtak, cost them an attack. The two police officers, Enver Smakiqi and Mergim Geci, were injured, one as a result of a firearm that has not yet been confirmed by whom it was fired, the other due to strong tools. Nuredini himself, together with the son of his two brothers, is being suspected for the attack on the Police. Arbri, together with his uncle, are still on the run, while Nuredin Lushtaku and his other brother were released in a regular procedure.
Gazeta Sinjali has provided new details about this case. The fight started at a checkpoint, on "Fadil Rrustemi" street in Skenderaj, where police officials stopped Nuredin Lushtak's son, who was driving a Golf type car, and issued him a ticket for a traffic violation.
Angry about the fine he received, 19-year-old Arbër Lushtaku decided to take revenge, asking for help from his father and uncles, who allegedly arrived at the scene in a car and started a fight with the Police.
The conflict started with an argument, and continued with an attack on two policemen, one of whom received injuries to the head, as a result of blows with strong tools, and the other to the leg, due to the projectile that was fired at the scene.
Sinjali's sources say that during the fight, one of the suspects took the official weapon from one of the attacked policemen, but that he was later handed over to the police station.
Meanwhile, the policemen who received injuries were first sent to the Family Medicine Center in Skenderaj, to be transferred to the KKUK for further treatment.
On the other hand, all relevant units came to the scene, where the necessary examinations were made, in which case three firearm cartridges were found, as well as raids related to the case were carried out.
In addition to the Police, the Police Inspectorate of Kosovo also intervened in the case, who in a response to the Sinjali newspaper announced that so far there is no police officer suspected of last night's incident in Skenderaj, therefore the investigations related to this incident will continues the Kosovo Police.
The police interviewed Nuredin and Faton, who turned themselves in at the police station, where they gave their statements about how they were involved in last night's incident, while his son and the other brother, Arifi, are still on the run.
By order of the State Prosecutor, the four suspects will be investigated for the criminal offense of "assault", while the search for the main suspects, Arbër and Arif Lushtakun, continues.