Kosovo organizes the World Cup in handball for universities, the team lists are published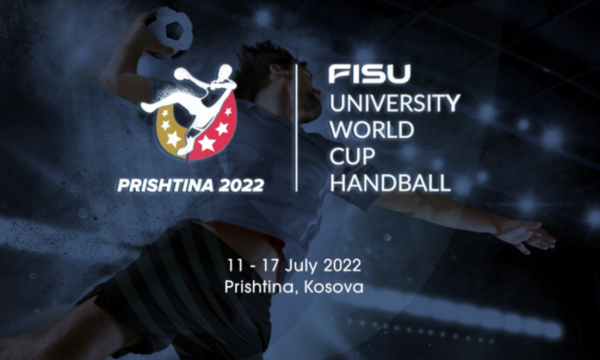 On Monday from 12:00 in the dormitories of the University of Pristina, the handball players of the university teams of Kosovo will gather. They will present our country at the University Handball World Cup, which will be held in Pristina from July 11 to 17.
The Handball Federation of Kosovo is a partner in this massive organization, while it has the right to select the teams. The selectors of the Kosovo A National Teams, Bujar Qerimi for the handball players and Agron Shabani for the handball players, were engaged in the selection and management of the teams. They will lead the university teams in the preparatory phase as well as during the competitions
The university teams of Kosovo will seek success in the mass event, according to the announcement issued by the Handball Federation of Kosovo.
Big handball events have been held in Kosovo before. It is expected to be the same this time in the competition where FHK is a partner. The University Handball World Cup is organized by the University Sports Federation of Kosovo in cooperation with FISU, the International Federation of University Sports. The participation of nearly 500 athletes and officials is expected.
The biggest event was only the IHF Championship for developing handball countries, which was organized in Pristina and Gjakova in 2015. A total of 16 countries from five different continents participated.
In this month's event, the FHK is also in charge of the technical part of the organization of the match, together with the IHF delegates. So the professional side of the matches, which includes referees, delegates, timers and others.
Men:
Flakrim Beqiraj, Arti Luzha, Lulzim Shabani, Florian Rexha, Mali Luzha, Jon Muqolli, Festim Mustafa, Atdhe Basholli, Alban Haziri, Çlirim Rama, Shkelzen Samahodaj, Rikard Quni, Drenit Tahirukaj, Arbios Mushkolaj, Adonit Isufi and Arbër Neziri.
Women:
Blerta Ahmetxhekaj, Venera Kafexholli, Rinesa Uka, Ardiana Prapashtica, Adelina Berisha, Elma Kameri, Natalija Milatovic, Lorena Matarova, Melisa Mulaj Tina Hetemi, Yllka Shatri, Luljeta Sopjani, Lorena Nikolla, Alma Nivokazi, Nurije Çekaj, Elisa Mulaj and Melike Ipçi. /Express newspaper/