In Peja, a warehouse with motor oils was burned, the owner was arrested after the conflict with journalists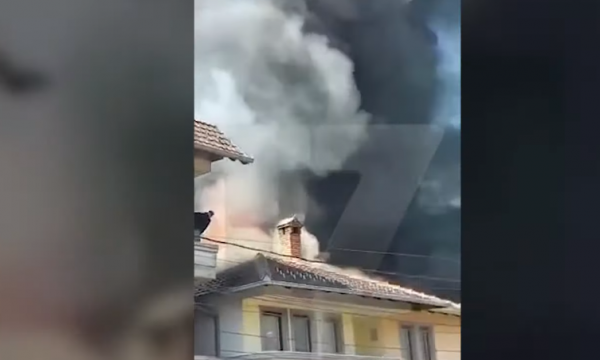 On Sunday morning, a warehouse with motor oils was burned in Pejas. A firefighter's condition worsened, while the owner was arrested after the conflict with journalists. The police have started investigations.
Reporter: Arianitë Zhegrova
Smoke and ashes are the only ones left.
The flames engulfed all three of these buildings on Gjergj Fishta street in Pejë.
Inside this warehouse, there were suspected to be thousands of liters of motor oils, which exploded one by one this Sunday.
Even the house of the warehouse owner was engulfed in flames.
The three occupants inside escaped unhurt.
The first to carry out the interventions are the firemen, who also needed the help of other units of the surrounding municipalities, since the fire was encompassing everything.
Lajci claimed that someone from the firefighting team was injured.
After a while he gets ready for the second intervention.
Someone from the team even had to come to the aid of colleagues even though he was not on duty.
Great damage was also done to the neighbor near the depot.
Hazir Muriqi tells how his grandchildren called him to tell him that the fire was also taking over their house.
He also spoke about the damage that was caused to him.
The other neighbors in front of the depot also expressed concern and fear.
Not even the apples and grapes were saved from the flames.
According to T7 sources, the owner of the warehouse is being held by the Kosovo Police, since he had a conflict with a team of journalists.
In the meantime, investigations by law enforcement agencies have already begun, by order of the prosecutor, the case has been proceeded to the Regional Crime Investigation Unit.