Hypertension – the killer that is silently taking the lives of Kosovars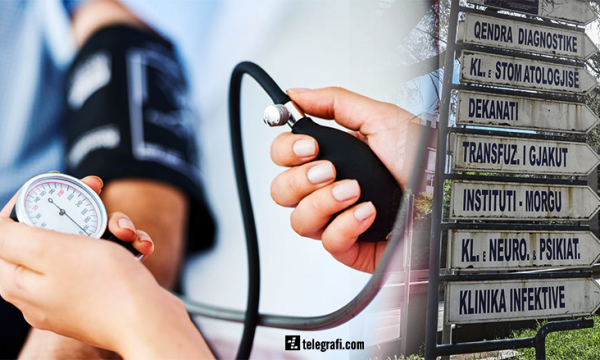 At least one in four adults and more than half of those over the age of 60 in Kosovo suffer from hypertension, or high blood pressure.
Cardiovascular diseases, including hypertension, are the most widespread and also have the highest mortality rate in our country.
This is what the spokesperson of the Ministry of Health, Faik Hoti, says in a written answer to Telegrafin, adding that the same is true in most countries of Europe and the world, based on statistics.
"The exact number of people affected by hypertension is difficult to determine, but it is certain that cardiovascular diseases, to which HTA is a part, represent today the number one of the most widespread diseases and also, with the highest mortality rate in our country. This is the case, according to statistics, in most countries of Europe and the world", says his answer.
"At least 1/4 of adults and more than half of those older than 60 have high blood pressure. The overall prevalence of hypertension is somewhere around 30-45 percent of the general population, with a significant increase with age."
Hoti further says that in Kosovo there are sufficient therapies registered and in use for the treatment of hypertension.
"Of course there is a certain cost, but which depends on the time when the disease was discovered, its stage, the treatment method, the age of the patient and other characteristics of the disease", he adds.
The number of patients suffering from hypertension is increasing
The number of patients with hypertension has been increasing in recent decades, says cardiologist Edis Demiri for the Telegraph.
Faik Hoti from the Ministry of Health, while confirming that there is an increase in new cases of hypertension, claims that "they are caused by various factors such as health, environmental, social and genetic".
Demiri shows that during the left side of the blood pressure, two values ​​of the tension are seen.
"High blood pressure (systolic blood pressure) and low blood pressure (diastolic blood pressure). Usually these two values ​​rose simultaneously. For the diagnosis of hypertension, it is enough that one of these is higher than the normal values", he says.
According to him, patients who have blood pressure higher than normal values, which means that they have systolic pressure above 140 mmHg and/or diastolic pressure above 90 mmHg, are hypertensive.
Consequences of hypertension
Doctor Demiri, among other things, shows that hypertension can cause kidney, cardiovascular, neurological diseases as well as eye problems.
"The organs most affected by tension are the heart, brain, kidneys, large arteries and eyes," he says, while adding that in 90-95 percent of cases with hypertension, there is no specific cause.
"However, hypertension itself is a condition that must be treated, in these cases it is primary or essential hypertension. In 5-10 percent of cases, hypertension is caused by some specific cause such as diseases of the kidneys, adrenal glands, thyroid gland, diseases of large arteries such as coarctation of the aorta, pregnancy, etc. In these cases it is called secondary hypertension and these are cases where the cause of hypertension must be treated".
According to him, most patients are not aware of their disease. Therefore, it says that every person over the age of 20 should have their blood pressure measured at least once a year.
"And when the values ​​are higher than 130/85 mmHg, you should visit the relevant doctor for appropriate examinations and eventually treatment planning in order to prevent the long-term consequences of high blood pressure."
Among other things, Demiri asserts that in order to treat hypertension, one should first try to lower the blood pressure with lifestyle changes and if these changes do not have an effect, then drug treatment should be started.
"Lifestyle changes that help control blood pressure are: losing excess weight and waist circumference, healthy eating, regular physical exercise, reducing the amount of sodium (salt) in the diet, stopping the consumption of smoking, reducing or stopping alcohol consumption, controlling the effects of caffeine on the body and coffee consumption based on these effects, managing stress and monitoring blood pressure at home".