The frightening warning of economists for Kosovo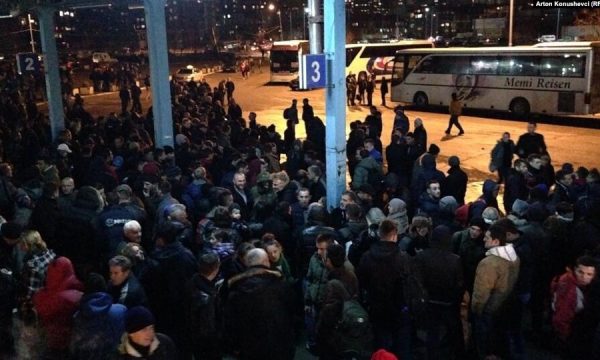 Between 50 and 60 thousand people will leave Kosovo by the end of the year, economic experts estimate. While only last year, the Kosovo Statistics Agency (ASK) announced that 42,728 people had emigrated. Therefore, according to experts, the number will to increase compared to 2021 due to bad economic conditions, also warning of a lack of labor force, reports Ekonomia Online.
Musa Limani, expert in the economy, said that if visa liberalization takes place, Kosovo will be empty. Limani says that the main consequences are economic, social and above all national.
"Normally, it is likely that this number will increase even more because it is unlikely that we will have any intensive development, and with the liberalization of visas, Kosovo will be empty. Just one more piece of information, last year as far as I know, 400 doctors left Kosovo. We will be without a doctor in the future. This migration of our youth will present a labor shortage in the future."
"Now it depends on how they secure the visas, otherwise they will take the world by storm as soon as they can secure the visas. I think migration will increase, not decrease. The main consequences are economic, social and above all national because Kosovo is being emptied. Tomorrow we will have a shortage of labor force". He considers that many couples do not agree to have children due to poor economic conditions, adding to this the flight of young people. According to him, the natural increase in the last year was 14 thousand people, compared to 1989 when there were 47 thousand people, adding that there will be depopulation.
"Besides the population of Kosovo has started to age, social problems are influencing young people not to create families precisely in the absence of social problems. It is prolonging marriage or a phenomenon that other countries have had, especially Germany, cohabitation. Cohabitation is the destruction of the nation, it means a couple lives together but they do not agree to start a family. In this way, step by step, the youth is decreasing and the population of Kosovo is getting older. A statistically correct data, in 1989 the natural increase, that is, the difference between birth and mortality in Kosovo was 47 thousand people, while in 2021 this natural increase has dropped to 14 thousand people. If this trend leads to migration, and the issue of delaying marriages does not come until old age, we will also have a depopulation of Albanians in Kosovo".
Even the economic expert, Lavdim Hamidi told Ekonomia Online that the flight of citizens will continue and this is due to bad conditions. According to him, the number of people fleeing from Kosovo will be between 50 and 60 thousand people.
"I have followed this case of escapes in 2013 and 2015, there are more behind. About 100,000 people have fled somewhere, mostly people who did not have jobs. Now the worst thing is that people with college degrees are fleeing and this is the biggest problem for Kosovo. I believe that if last year they received 34 thousand German visas. This year it will be much more, almost 50 thousand or 60 thousand who will leave and thus Kosovo will be left without professional staff". it costs the state budget 200 thousand euros.
"Somewhere there are about 43 thousand people who have gone to work outside of Kosovo. They are leaving because of bad conditions, doctors are leaving because of low salaries, nurses and craftsmen who have a very large market in Germany. Our biggest mistake is because the preparation of a specialist doctor costs the Kosovo budget somewhere around 200 thousand euros, and we are forgiving that to Germany because their salary is 600 euros". As for the consequences, he says that the country will to remain without a doctor, without an engineer, architect and professional in the fields. He says that after 10 years the current doctors will retire and there will be no new professional staff.
"The consequences are that you don't have a good doctor in the state clinics, you were forced to go to a private one, spending a lot of money for their services. On the other hand, the price of people who have different professions, mainly construction, has increased because they are employed in Germany, find a work contract and do not even need German language courses. In other words, the market has been completely liberalized and it has been possible to hire workers from abroad". "In reality, it has been said by the Chamber of Doctors that the average age of doctors is over 50 years in KKUK and somewhere between 10 and less than 15 years they will retire. Meanwhile, we do not have new staff because they are leaving and this is also happening with other professions, with engineers, architects and all those who see a better opportunity in Germany will go. The only way to stop them is to offer them better conditions in Kosovo".