Bostani is good in Suharekë, the mayor tastes it first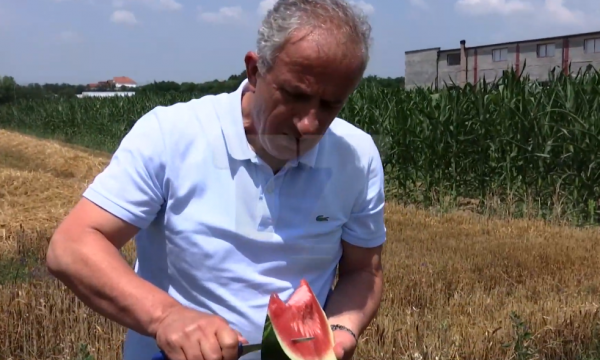 Journalist: Unity Berisha
For one season, he worked to bring the watermelon to this state. But even though they are already ripe, Fazli Beqiraj from the village of Sopije in Suhareka has not yet tried any of the melons in his field.
He wanted to leave the privilege to the mayor of the city, Bali Muharremaj.
So he set out to find the best melon.
But the mayor himself helped in choosing the best watermelon.
Muharremaj shared the first melon with other villagers
The opening was made under humor, but also under emotions.
Mixed emotions turned to joy when it turned out that the watermelon was pretty good.
To prove that they are all the same, another was brought.
Everyone got a share.
These successes of the farmers make the president happy, saying that they are leaders in terms of businesses in the country.
He said that as a municipality, it is helping the farmers as much as possible, but help is also needed from the central institutions.
The landowner, satisfied with the yield of the watermelon, said that he will continue to increase his production every time
The mayor of Sopije village, Avdyl Kabashi, says that this village has a tradition in agriculture, but it also requires more subsidies and help.
In the end, the owner made sure to give everyone a watermelon.