UBT announces a competition for the admission of new students for the academic year 2022/23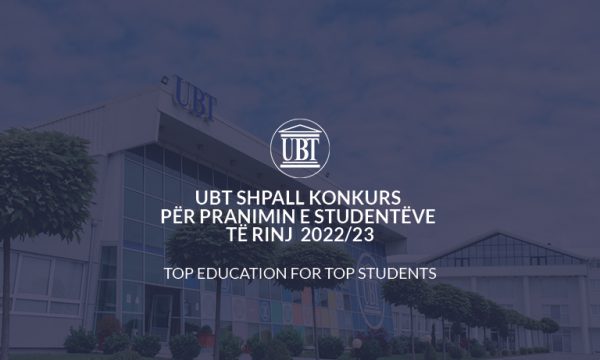 UBT announces the regular public competition for the admission and registration of new students, for the academic year 2022/2023, in all study programs, accredited by the Kosovo Accreditation Agency and licensed by the MEST.
The right to compete and enroll in basic studies (Bachelor) belongs to all candidates who have completed upper secondary education and who have successfully completed the national Matura test.
To enroll in Master studies, the candidate is required to have completed Bachelor studies.
Study programs at UBT, at the Bachelor level:
Management, Business and Economics
Computer Science and Engineering
Mechatronics Engineering
Political Science
legal
Integrated design
Food Sciences and Biotechnology
Modern Music, Digital Production and Management
Agriculture and Environmental Engineering
Security Studies
Sports and Movement Sciences
English language
Information Systems
Civil Engineering (Infrastructure) and Infrastructure
Architecture and Spatial Planning
Media and Communication
Teknik Dentar
Psychology
business Administration
Art and Digital Media
Plays
Radiology Technician
Nurses
Medicines
Dentistry
Medical Biochemistry
Study programs at UBT, at Master level:
Management, Business and Economics
Computer Science and Engineering
Information Systems and Management
Civil Engineering (Construction) and Infrastructure
Mechatronics Engineering
Architecture and Spatial Planning
Public Policy and Management
Food Sciences and Technology
Modern Music, Digital Production and Management
Media and Communication
Public Health and Management
Development and Urbanism
Advanced Integrated Design
Political Science
Criminal law
International and European Business Law
Civil and Property Law
Medicines
Dentistry
Pre-Medical Science
Health and Physical Activity
Note: There are study programs which are not included in the above list, which are in the process of accreditation, about which we will keep you informed.
UBT campuses and registration centers in Kosovo:
Prishtina;
Lipjan;
Prizren;
Peja;
Ferizaj;
Gjilan
International mobilities / scholarships:
Erasmus +, CEEPUS, PoSIG, etc.
Joint studies:
University of Warsaw, Poland;
Vienna University of Technology, Austri;
Parthenope University of Naples, Italy;
Danube University Krems, Austria;
CIFE, Nice, France;
Semmelweis University, Hungary;
University of Salzburg, Austri;
CEEPUS Program, Bulgaria;
City University London, Angli;
Waterford Institute of Technology, Ireland,
Language of studies:
Albanian language, English language, as well as the possibility of studying in other languages.
For guaranteed success, UBT offers students:
Orientation and professional practice, courses, study visits and certifications;
Online system and access to computers;
Free software licenses;
Internship in local and international companies;
Library with over 200 thousand titles and access to world electronic libraries;
Practices and experiments in contemporary laboratories;
Trainings: CISCO, Microsoft, AutoCad, ECDL, IPMA, etc .;
Certifications for accountants in cooperation with SCAAK.
Students who apply to basic studies, attach to the application:
State Matura certificate – original or notarized copy;
High school diploma – original or notarized copy;
High school transcripts – original or notarized copy;
Birth extract.
For more information about the study programs and opportunities offered by UBT, please follow the link: https://www.ubt-uni.net/
Choose the best, to become the best!