Palace of Brigades, Berisha: Oligarchs to "escape" from Rama, do not incriminate yourself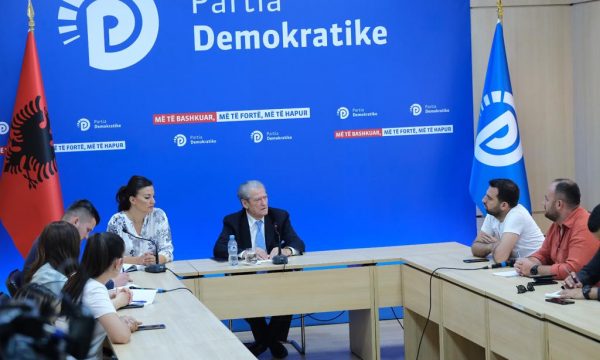 Former Prime Minister Sali Berisha returns to the assassination of Pjerin Xhuvani before April 25, 2021. For this event, Berisha accuses the chain of command in justice, the Prime Minister, but also Gazment Bardhi.
"Gaz Bardhi disappeared and the parliamentary inquiry commission was closed with Taulant Balla. This is the commission that did not function any day. Has he protested the closure of the commission? When you take the other, you have him in the team, and this happens, you will take your responsibility and not abandon it, as they did with Arbër Paplekaj.
They abandoned him because they wanted to close the crime of inaction by the police and concealment, equally criminal fraud by Veliu and Rama of the crime. What should be the one who does not feel responsible for this? Very very bad. He was with you. He was in your offices. You took it and now, stay in your fate, because you made an agreement with Taulant Balla.
I congratulate the prosecution that called him, but I condemn the silence it has maintained against Ardi Veliu, Alfred Shehu and Taulant Ballës. Alfred Shehu is a criminal from the Elbasan gang. He has no place in the SPAK"Said Berisha.
The former Prime Minister also referred to yesterday's decision in parliament where he said that Rama, instead of returning money to the citizens in difficulty, distributed them with his clientele.
"This people is being ignored by the autocratic regime of Edi Rama just like a real dictatorship. Yesterday's act in parliament was beyond imagination. Yesterday Rama by law decided that hundreds of millions of euros earned by drinking the blood of Albanians with caterpillar boards, increasing prices, which were gained by increasing value added tax revenues instead of returning to those who have trouble biting Edi Rama distributed to his clients, those who cannot buy medicines, those whose businesses and farms are going bankrupt. Awarded to a group of construction companies that have won tenders under the new corruption law at 99.9% of value.
Those who have won the tenders, they are getting the new bonus to share with Rama and his governors. There is no act more cynical, inhuman than this. How can this happen? "You, the money that came out of the price increase, which are in themselves pain, sweat and sacrifice of the working people, you have to do something to return it to them and not to the clientele", said Berisha.
While commenting on the government's decision to grant a concession to the management of the Palace of Brigades, Berisha said that the oligarchs should not incriminate themselves.
I call on the oligarchs "do not incriminate yourself with Edi Rama". What you do is fatal, because there are laws in the world, it is not a condition to be filmed handing over the suitcase with euros. But if he acts like yesterday who takes the money from the citizens and gives it to the oligarchs, this is called a suitcase with money. Therefore, I also have this call: you will not enjoy a fortune determined by paying, sharing it with Edi Rama and his governors. This is a solemn commitment. "After an anonymous 73-year-old, without any wealth, but with a government official, we have a strategic investor across the Volga in Durrës".
Berisha warned Prime Minister Edi Rama and said that July 7 is just the beginning. He said that the head of government has crossed all kinds of red lines with a cynical attitude towards citizens.
"I tell Edi Rama that this is just the beginning. Edwin, July 7 is just the beginning. I guarantee you and know well that my word is word. "It is the beginning because he has crossed every kind of red line with a cynical, negligent attitude, not to mention humiliating to the citizens and his decisions", said Berisha.