The drug gang is destroyed in Italy, among them 4 Albanians, with 5 properties and 6 bank accounts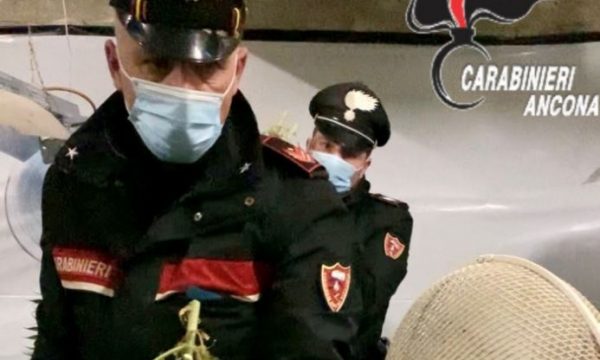 A drug trafficking gang has been busted by Italian police. 9 people were handcuffed, including 4 Albanians.
Italian media report that the investigation took place between January and September 2021. The detainees reside in the provinces of Ancona, Pesaro Urbino, Florence and Pescara.
The security measure in prison was carried out against a 27-year-old Albanian, resident in the province of Ancona, from whom a van, a scooter, 6 bank accounts, 5 properties in Mondolfo and 4 Rolex hours were seized.
In the course of the investigation, 5 other people were arrested in flagrante delicto, as well as the execution of a suspect arrested for crime and taking security measures in prison and the seizure of 2.9 kg of cocaine, 57.5 kg of marijuana, 3.5 kg of hashish, 1255 cannabis plants , a 6.35 mm Walther cal pistol with 7 cartridges and about 124,000 euros.
The charges against the gang relate to the possession and sale of marijuana and hashish and can be summarized as follows:
– the transfer of approximately 11 kg of marijuana that took place in Camerata Picena on January 9, 2021;
– sale of approximately 31 kg of marijuana located in Camaiore (LU) on February 9, 2021;
– the sale of approximately 3.5 kg of marijuana occurred in Senigallia on 26 February 2021;
– sale of 100 grams of hashish in Turin on March 1, 2021;
– Sale of 10 grams of marijuana occurred in Mondolfo on April 4, 2021;
– sale of 42 kg of marijuana occurred in Pescara on April 21, 2021;
– sale of 100 grams of hashish occurred in Senigallia on May 9, 2021;
– Sale of 22 kg of marijuana occurred in the province of Ancona on June 18, 2021;
– sale of 100 grams of hashish which took place in Senigallia on June 19, 2021.
The Carabinieri have registered the following shares:
– Rudiano (BS), December 20, 2020, arrested a 66-year-old man from Ancona with 2726 kg of marijuana and 1 kg of cocaine;
– Pesaro, 28 December 2020, arrested a 59-year-old and a 61-year-old Albanian, who were found in possession of a total of 840 grams of cocaine and 4700 euros;
– Jesi, January 14, 2021, a greenhouse was discovered inside an industrial warehouse where marijuana was grown. 1,255 marijuana plants, 7,825 kg of marijuana, 837 grams of cocaine, a 6.35 Walther pistol with 7 cartridges, the amount of 117,730 euros and various equipment were seized;
– Vipiteno (BZ), 16 January 2021, a 32-year-old Albanian responsible for guarding the greenhouse in the forested area is arrested has been arrested as a suspect;
– Pietrasanta (LU), February 10, 2021, arrested a 29-year-old Albanian, resident in Florence, who was found in a warehouse about 3 kg of hashish and over 45 kg of marijuana and a large amount of 1860 euros in cash;
– Bolzano, March 30, 2021, notified to the Albanian citizen, already arrested for the history of the greenhouse, arrest warrant in prison for several sales
drugs committed in Pesaro.
During the control, a 27-year-old man from Fanotë was arrested and about 200 grams of marijuana and various materials for packing drugs were found.