Covid-19 situation, new cases increase significantly, one person has lost his life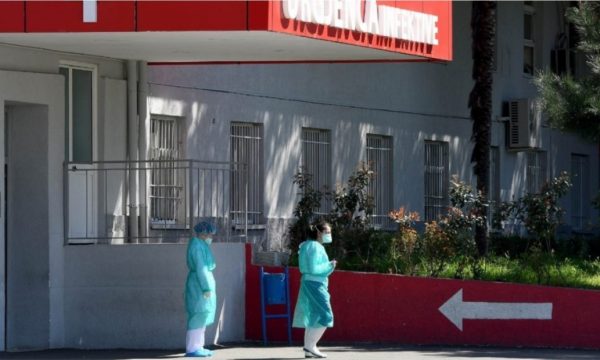 The Ministry of Health announces that today 1729 tests have been performed, of which 619 citizens have tested positive. In the last 24 hours only one loss of life has been recorded and 339 have recovered.
We inform you about the situation in the last 24 hours, as follows: 1729 tests were performed, of which 619 citizens tested positive with COVID19, in the following municipalities:
327 in Tirana, 32 in Shkodra, 31 in Durrës, 26 in Fier, 24 in Berat, 21 in Vlora, out of 20 citizens in Kavaja, Saranda, 12 in Lezha, 10 in Lushnje, out of 8 citizens in Kruja, Elbasan, out of 7 citizens in Kamza, Vora, Divjaka, from 6 citizens in Mallakastra, Gjirokastra, from 5 citizens in Patos, Himara, Korca, from 4 citizens in Kurbin, Përmet, Pogradec, from 3 citizens in Mat, Skrapar, Gramsh, from 2 citizens in Kukës, Shijak, Kuçovë, Poliçan, by 1 citizen in Mirditë, Dibër, Roskovec.
There are 3,167 active citizens with Covid19 nationwide.
Currently 21 patients are receiving treatment in COVID3 hospital. In the last 24 hours there is a loss of life with Sars-Cov2: an 83-year-old citizen from Gjirokastra.
339 citizens have been cured in the last 24 hours, bringing the number of cured to 274,802 since the beginning of the epidemic.
Statistics (1 July 2022)
New daily cases 619
Healed in 24 hours 339
Hospitalized 21
Loss of life in 24 hours 1
Daily tests 1729
Total witnesses 1,850,794
Positive cases 281,470
Healed cases 274,802
Active Cases 3,167
Loss of life 3,501
Geographical distribution of active cases by regions:
Tirana 2,228
Fier 190
Vlora 174
Durrës 154
Shkodër 87
Gjirokastra 82
Lezha 81
Elbasan 56
Weight 54
Korça 39
Dibër 17