Majesty from the Assembly: Here are the names and fictitious companies of incinerators that committed 189 million dollars of tax evasion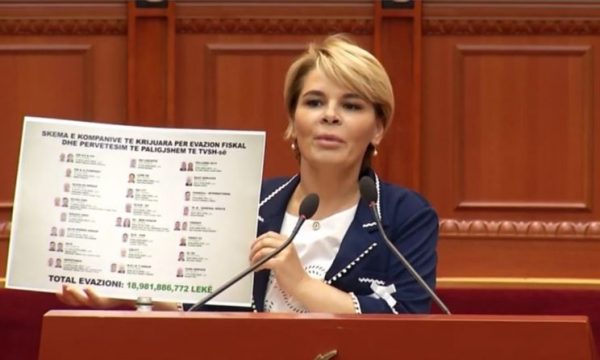 The chairwoman of the SMI, Monika Kryemadhi from the rostrum of the Assembly has made a strong denunciation where she published the names of companies that according to her have benefited from the incinerator scheme.
According to Kryemadhi, the incinerator companies that committed $ 189 million in tax evasion are the ones that will benefit from the normative act for price reimbursement.
While holding a sign with the names of the companies in the rostrum, Kryemadhi said that the evidence will be submitted to SPAK.
THE SPEECH OF THE PRIME MINISTER
At first glance when we look at the normative act that deals with a reimbursement of a value of up to 30% for construction companies for public works, he sees and thinks that we live in Denmark in a very democratic country, in an equal economy in a competition . Because in today's conditions when the price of iron, the price of cement, oil have increased due to the war, normally this consequence will be felt in public works, such as schools, hospitals, roads, bridges and everything else. And there is nothing wrong with this point of view because if the iron tone when the contracts for these works were concluded was 600 euros and it is already 1100-1200 there is nothing wrong for the government to take over a reimbursement so that these works finish as soon as possible. It would be good for this to be done for the education system as well, given that with the increase in the price of oil, students find it very difficult to go to school. It would be a very good thing for health, it would be a very good thing for retirees. It would be very good for construction companies to sell apartments to Albanians. For farmers, for farmers for all other businesses. To make an amendment, a normative act to subsidize Albanian businesses.
But the suspicion begins the moment who will be the instrument that will check the bills. Who will check that company x those who have won public tenders with 99% of the value will show the real bills. From my experience from the investment we have made with the issue of incinerators that I have always said that the deeper you go the deeper it comes out, I am giving you a figure that today I have finally officially. The scheme of companies created for tax evasion and will soon be addressed to SPAK to join other lawsuits. For the misappropriation of VAT is $ 189 million, only companies that have worked with incinerators. So, in these companies are 99.99% of companies that will benefit today from this normative act. Dear colleagues and journalists, these are more bills and dates. These companies have bought flour, oil, sugar, rice, salt and have also sold gravel and concrete. There are three groups, it is the group of Albanian companies which can not afford the profit tax, and increase expenses with inflated bills. There is another group that wins concessions of 40 million euros per kilometer, or 300 million euros of concessions and in addition to making inflated bills rob the money from the state budget and in addition avoid paying VAT, receive and refund VAT are two other companies that are directly connected to the incinerators. Aside from the fact that you see these companies that will be very soon of all the other media.
What is even more frightening that I say who the control mechanism. Here are 9 affiliated companies run jointly by the Ymeraj, Murati and Frangaj family. Which after being denounced in the scheme of tax evasion with incinerators, their businesses have been sold. If you click today at the NRC they can not be opened because the General Directorate of Taxes has closed them because they have not paid VAT. a business of 17 million euros was bought by Vezir Brahaj and Shkëlqim Meta, another business of 7 million dollars, 10 million dollars and 14 million dollars was bought by a lady who is 95 years old and a gentleman who is 94 years old. So, these two seniors have bought businesses worth 35 million euros. What I mentioned a little while ago that the incinerator company, although today the incinerators of Fier and Elbasan have been seized by the Special Prosecution, the incinerator of Tirana continues and is paid by the money of Albanian taxpayers, not only of Tirana but Albanians. Because the Ministry of Finance is the one that has guaranteed the 30-year commitment of Erion Veliaj on behalf of the Municipal Council with an illegal decision. While we pay $ 80,000 a day for incinerators to pay for vacations, to pay journalists, to pay for television, do not be surprised now rent and rent televisions. To pay for plane tickets in the year of the pandemic when no plane flew over the Albanian sky. To pay for things that did not exist and we again with such a normative act. I raise again the doubt who is the controlling mechanism of these bills that these companies will expect. The scheme of tax evasion, I am very sorry for the honorable ladies who are ministers today and are forced to swallow this spoon is the scheme that the Prime Minister of Albania Edi Rama has used not only to buy the votes of April 25, but it is the scheme that he uses to buy every state, public, media and financial institution. In just 30 companies $ 189 million net tax evasion without counting what already happened with the normative act, with the reconstruction companies being in fact the companies most affected by the price increases even though the taxi drivers' payments have been paid in advance. While the companies that win concessions of 300 million euros will enter the market again, when for the sake of truth there is no control of volumes, no control of works but everything is set up in a fictitious way. To be honest, dear colleagues, the issue of tax evasion, today is the mechanism of a typical organized criminal structure which will serve not only for money laundering coming from drug trafficking but will also serve for money laundering. tax evasion, where we will soon look at the draft law that will be presented to us in Parliament on fiscal amnesty. Albania does not need a fiscal amnesty, Albania needs the formalization of our market. And the formalization of the market begins with the food oligarchs, who sell invoices to these companies, which have two employees, from 1 million ALL without VAT in such a way as to unload their products. And they sell flour, sugar and rice to incinerator companies, concession companies, public works companies, ferrous concrete and gravel. Therefore, this normative act is nothing but a cover of that poisoned black hole with a deadly disease which can last very little but the consequences will be great because it has already started removing Albanians, businesses and anyone who can to live in Albania.