Hydajet Hyseni with a long speech in the Assembly, Glauk Konjufca does not continue his speech: You can submit it in writing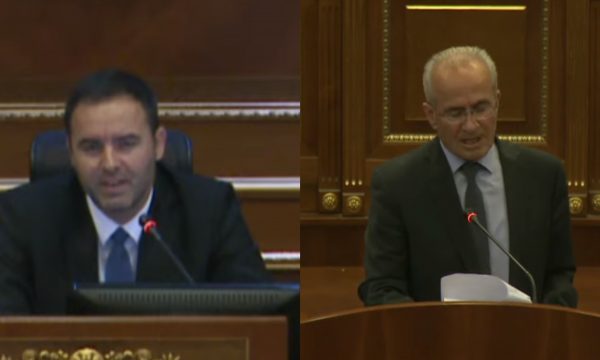 Vetëvendosje Movement MP Hydajet Hyseni planned a long speech on July 2, 1990, when the then delegates of the Assembly of Kosovo adopted the Constitutional Declaration, by which Kosovo was declared a separate unit within the then Yugoslav federation.
With many letters in hand, Hysen's speech did not last as long as expected, as Parliament Speaker Glauk Konjufca did not decide to continue his speech twice, reports Rhewal.
Hyseni exceeded the time allotted for his speech, while for the first time Konjufca ordered his speech to be continued.
"The strategists of chauvinist and anti-Albanian policy had calculated in vain that after repressive and restrictive measures with violence, mass imprisonment and genocidal terror, with division, division and all-enmity they could subjugate the elite representatives and the population according to logic: If to complain the orphan child and asks for cheese, there is medicine. "I take the bread and the orphan child forgets the bread", said Hyseni, among other things.
The word stopped him again.
"Z. Hyseni is it possible that… You have a very long word? Yes, feel free to submit in writing. Thank you very much! You can also submit the word in writing… It was therefore a homage to this very important event, July 2 ", said Konjufca.
MP Hydajet Hyseni agreed and left the rostrum of the Assembly.