How different religions describe Hell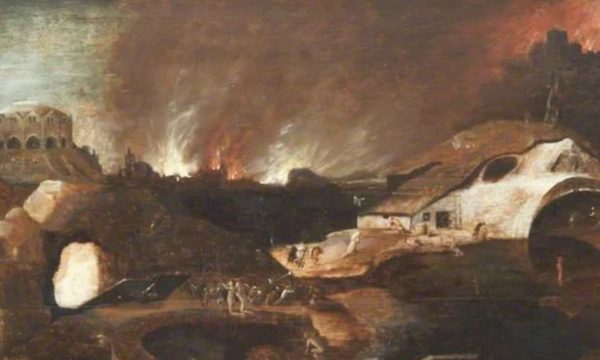 Many religions have a view on the afterlife, which involves a dark side. But there are many misconceptions about what different religions say about Hell. It is rare to find a consensus among followers of a religion with those who have completely abandoned belief in it.
Is Hell a scary idea, created specifically to control people through fear, or does it provide that sense of justice that is often lacking in our physical world? If so, is it an eternal punishment, or a place from which one can be saved through good works? Does the fear of divine punishment serve to motivate people to act in a more ethical way? Here are some of the ways in which the major religions of the world describe Hell:
Hell according to ancient religions
The idea of ​​a kingdom of eternal punishment comes from Egyptian mythology from the IV millennium BC. Hell, or "Duat," was seen as a place that envelops the earth, overseen by a jackal-headed deity, Anubis. The road to Judgment Day was long and arduous.
The dead had to pass through 12 regions of Hell, and a host of snakes and demons breathing from the fire before reaching the place of judgment, i.e. whether they survived or not. Those who failed could be destroyed without hope of being forgiven. During the trial, their souls were weighed against the weight of a feather.
The result determined whether their life was right or wrong. The hearts of the wicked were broken by demons, while the good were sent to the "House of Happiness." Greek mythology described the afterlife as the underworld, Hades, a labyrinth of darkness and despair guarded by the fearsome dog Cerberus. Roman mythology speaks of the spirits of the dead crossing the Styx River. The bad guys went to the torture fields, Tartarus, while the good ones went to the Elysian Fields.
Christianity
Most traditional Christian notions of Hell do not come from the Bible but from medieval literature. Examples include Dante's masterpiece, John Milton's Paradise Lost, and later artists such as Hieronim Boch and Michelangelo. The New Testament contains few references to Hell.
Conservative Christians like theologian Daniel Strange say that the mention by Jesus of Gehenna, a real place on the outskirts of Jerusalem where child sacrifices took place and fires were always lit, refers to a place in the afterlife where wicked people ended up. including those who have rejected Christ.
Christians are generally divided as to whether or not Hell is a real place, or whether Jesus' main focus was on the importance of human life on Earth. Liberal Christians tend to describe Hell as a state of mind that represents distancing oneself from God, with people choosing to leave heaven. But the possibility of reunion with God is always there, and Hell is perceived as a place of re-education and not a place of endless punishment.
Catholics, describe Purgatory as a place where those who are not considered sinners enough to end up in Hell, take the path of repentance, until their sins are atoned for, and eventually enter Paradise. Many progressive Christians, such as the Unitarians and the Universalists, say that Hell does not exist and that they will all eventually enter Paradise.
Hell according to Judaism (Torah and Talmud)
Within Jewish theology there is a debate over the concept of Hell and the afterlife. Many Jews do not have a strong belief in what happens after death, while some insist that Hell does not exist. But various sacred texts in Judaism refer to hell as a kingdom of repentance and punishment.
The passages from Samuel and Ezekiel refer to a day when the Lord will "bring out" the bodies from the graves and when flesh and skin will grow again in the "dry bones" of the dead by His command. Whoever dies for the glory of God's name must receive his ransom, and this means that all righteous beings will be given new life at the end of time when He raises people from the dead.
The Talmud, the book of Jewish law, refers to an afterlife that sees all but the most wicked being sent to a place of fire, where people are temporarily burned and purified before being taken to Paradise by Abraham. Elsewhere, the Talmudic text describes how instead of going to Paradise, people no longer exist after atonement for their sins.
The descriptions of Hell in the Talmud describe a place called Gehinnom, where the soul spends 12 months purifying itself before being released into Olam Ha-Ba, the world to come. The incorrigible wicked are either punished with punishment or annihilated altogether. Moreover, the Talmud speaks of a future where the dead are brought back to life, and describes their behavior in Gan Eden, a place of equality and justice where they enjoy an exalted position in the presence of the divine.
Islami
The main schools of Islamic knowledge about the afterlife promote the idea that human beings will one day face judgment when Allah brings them all before Him. At that moment the dead will be resurrected, sinners will be thrown into the fire when they cross the divine bridge, and the righteous will be sent to Paradise. His judgment is supposed to be final, but he can show mercy if Muhammad intervenes. According to Islam, Hell has 7 gates, each reserved for a certain group of sinners, based on their evil deeds in life.
Hinduism
Hinduism teaches that instead of being a place of perpetual torment, Hell is a 28-tier kingdom where individuals atone for crimes committed in a previous life. This process is known as "Naraka" or "Yamaloka" and is overseen by Yama, the God of Death. Sinners can be tortured, and after cleansing from sin, they eventually go to Heaven or "Moksha".
Buddhism
According to Buddhism there are 6 spheres of existence, one of which is a kingdom acting as a Hell. Inside there are 8 Ferres. There souls are cut, burned and swallowed, before returning to life to go through the same hardships, again from the beginning, through re-incarnation.
Taken with cuts from Grunge – Bota.al