VMRO insists on early elections, Kovacevski said strongly: There will be no elections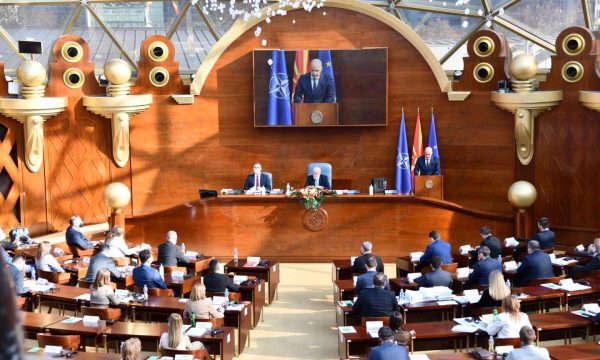 The opposition demanded that Prime Minister Dimitar Kovacevski determine whether the energy, economic, political and identity crises are a sufficient basis for early parliamentary elections. Aleksandar Nikolovski reminded the head of the executive body that his party came to power with the promise of a better life, while asking if people in Northern Macedonia live well today or not.
"Direct denial of Macedonian identity, Macedonian language, culture, history, tradition and Macedonian people. Macedonia made a painful compromise and changed its constitutional name. That this is not enough, in the meantime economic catastrophe is happening to us, inflation is booming, in some products even over 100 percent and electricity is increasing every day and more. Do you think that life is good in Macedonia and do you think that it is time to resign and go to early parliamentary elections ", declared Aleksandar Nikolovski, VMRO-DPMNE MP.
The chief executive responded that the parliamentary majority has a unified stance on the upcoming parliamentary elections.
"There should be no early parliamentary elections. Because you raised dilemmas in many discourses, I will answer you why not. At the moment we have a Government which takes care of the national interests and the dignity of the citizens without dividing them on ethnic or religious grounds. "We take care of everyone without distinction", replied Dimitar Kovacevski, Prime Minister.
Last week, during the unveiling of the French proposal to the coalition partners, Prime Minister Kovacevski and the partners of the ruling coalition took a common position that there will be no new parliamentary elections until 2024. /Alsat.mk