Vladimir Putin's billions: Have the sanctions imposed by the West failed?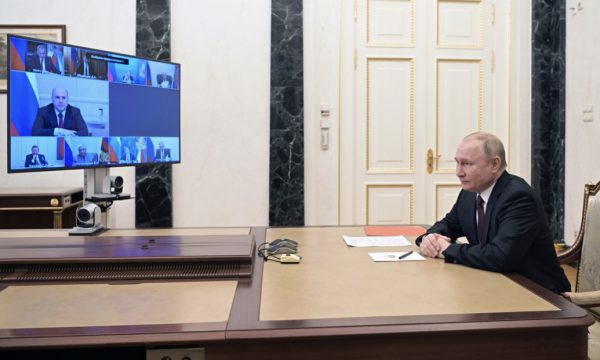 By Kate Andrews
"Spectator"
When Vladimir Putin sent his tanks to Ukraine on February 24, he did so on the assumption that the West was too divided to have a unified response. She was the first among many miscalculations. The same day, British Prime Minister Boris Johnson promised "major" economic sanctions that would "severely damage the Russian economy."
"It was Putin who chose this war. And now he and his country will face the consequences! "Joe Biden declared that evening, as the United States announced the imposition of sanctions on major Russian banks. The global economic response to Russian aggression has been stronger than expected. Assets of Russia's most notorious oligarchs have been seized, while Russian banks have been excluded from the international banking system.
Of the $ 600 billion war budget created by Putin – the world's fourth-largest reserve – more than a third has been frozen as a result of sanctions. Asian democracies also joined the economic war. Japan ended its historical neutrality, and mobilized like never before.
But after a little over 100 days, it is fair to ask: Are these sanctions working? Russia is trying to export goods to Ukraine's allies. But as Putin calculated, Europe has not found a viable alternative to its energy supplies, so it is continuing to buy energy from the Kremlin.
The Russian Ministry of Finance forecast additional revenue of $ 9.6 billion in April alone, thanks to rising energy prices. If these prices remain high, Putin will make more money this year from oil and gas than last year.
At the moment, he is amassing about $ 800 million a day, and is spending most of it to stimulate the local economy. If the purpose of the sanctions was to stifle the Russian economy – and with it the war machine – then it is difficult to call the imposition of sanctions a success.
When Joe Biden vowed to retaliate economically against Russia in February, he said we would have to wait a month to see the effects of the sanctions. When the first month was over, he was forced to change his tone: "Sanctions never stand in the way. We will keep them in effect not just next month, but for the rest of the year. "Only that will stop Putin!"
So we have to prepare for a long economic game. The strategy is no longer financial shock and fear, but the disappearance of the Kremlin coffers, in the hope that Putin will surrender. The free world is competing over who can go further with the sanctions regime.
Britain has urgently passed laws imposing any kind of sanctions against oligarchs blacklisted by the US or the European Union. But there are also major economic powers that still claim to be neutral. China has had no problem buying cheap Russian oil, about $ 35 less than on the stock exchange.
Its state-owned refineries have filled up deposits during the first half of this year. Other private refineries have started doing the same starting this month. Orders for Russian crude oil from India have increased over the last 2 months. The lower price enticed Narendra Modin to abandon even that little solidarity, which was reacting to Ukraine at the beginning of the crisis.
But it is not only "neutral" countries that are buying Russian energy. "Better a cold shower than Putin's gas," read German protesters' banners in February. Chancellor Olaf Scholz revealed that this is not just a slogan, but the difficult choice facing the country.
Despite pledging to suspend Nord Stream 2 – the already completed pipeline under the Baltic Sea – Scholz is not convinced his country is ready to end overnight his country's dependence on Russian energy. Currently, Berlin pays Russia about $ 220 million a day for the oil and gas it receives, more than a quarter of the Kremlin's daily revenue from energy exports.
Now some analysts have begun to argue that Western sanctions have been sabotaged by this huge amount of gas going to Germany, and that this will allow Putin to fund his war for as long as he needs to. The energy sanctions imposed by the EU so far, carefully exclude any serious blow to Russian gas coming to the bloc.
"They ruled out any mechanism that would really make a difference," complains a Conservative MP in Britain. In the German government, many ministers say sanctions could have a much greater effect only if Germany decides to completely ban the purchase of Russian gas.
But the time available to the West to use economic sanctions as a weapon to cripple Russia's war machine may be over. If Europe had imposed an energy embargo sooner than at the beginning of the conflict, the financial shock to Moscow would surely have been great.
Sadly it moved at a snail pace, as the gap between Russia's exports and imports tripled to more than $ 100 billion in the first 5 months of this year. Now Russia seems to be gradually reducing gas supplies to Europe, in a bid to prevent the accumulation of reserves for the colder months, when Putin wants to play with the blackmail of a complete cessation of supplies.
Last week, Italy and Slovakia reported receiving less than half the usual quantities. With multiple monetary reserves, Putin can afford this. And that leads us to an unpleasant question: What if sanctions, and Putin's unexpected profits, mean that Europe may soon need Russian gas far more than the Kremlin for European money?
The West is experiencing serious economic damage as a result of energy costs, but without giving a debilitating blow to the Russian economy. This is not to say that economic sanctions have had no impact. The Russian army is facing many difficulties in supplying high-tech artillery.
While Russian forces still have access to large reserves of traditional armaments, the Kremlin is estimated to have lost 1/3 of the ground forces deployed in Ukraine, according to data provided by the UK. This includes thousands of military vehicles that Putin will find difficult to replace.
Although Putin has the money to keep the Russian economy afloat for some time, Russians increasingly feel like they have been pushed to the periphery of the global economy, where many products they could normally buy have completely disappeared from store shelves, and that for due to the embargo.
Russia will not be able to avoid a major recession, which this year is projected to be over 10 percent of GDP, and at least 4 percent next year, a much worse prospect than any European country. But the gas money that is flooding in like never before gives Putin more breath than such a country could face under very severe sanctions.