The fastest way to peace in Ukraine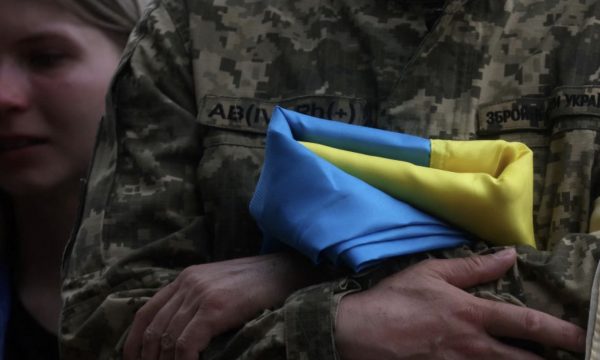 András Nga Tóth – Czifra
"Center for European Policy Analysis"
Some elements of Western weakness have been created by the Russian government. Aside from the Ukrainian Donbas region, where a bloody battle has begun, and southern Ukraine, which is facing industrial-scale looting and kidnapping under Russian occupation, the third theater of war is now without question the information space in Western democracies.
Russia is causing a global food crisis, blocking Ukrainian ports, plundering Ukraine's grain, and bombing the country's agricultural lands and agricultural infrastructure. It is also spreading the narrative that the food crisis and rapidly rising inflation in Europe and the US were triggered by Western sanctions.
She fears it will escalate the war, threatening Lithuania over a "blockade" of the Kaliningrad enclave invented by the Kremlin, and trying to undermine trust between Ukraine and its Western backers, and the spread of baseless rumors that Poland wants to invade Western Ukraine.
Moscow has reduced gas shipments through the Nord Stream and Turk Stream pipelines, as well as suspended gas deliveries to several EU member states. As always, the Kremlin information war would not work without the impatience, short space of attention, and anxiety in Western democracies that Russia knows so well.
She has even learned to use them to her advantage. Combined together, they have spurred voices calling on decision-makers to change direction or focus. U.S. government officials have spoken anonymously about their concern about "collateral damage" greater than expected from sanctions.
Some far-right and left-wing analysts, meanwhile, falsely imply that military and humanitarian aid to Ukraine ($ 54 billion in the case of the US, or about 1 percent of the federal budget) is somewhat comparable to the cost of the internal stimulus financial package.
In Europe, the discourse has been erroneously structured as a debate between proponents of "peace", and their opponents who want the war to continue, both by non-liberal politicians and liberal analysts (though certainly with different accents). This debate often highlights how little Russia is understood.
For example, the gas crisis was entirely predictable. Since Russia no longer has a share in the European gas market, it faces only short-term costs and benefits, and can maximize political and very potential financial benefits by reducing gas deliveries.
However, there is little visible planning for the emergency we face, even in communication. Russia's exaggerated rhetoric about a "blockade" in Kaliningrad (passengers and goods not on the sanctions list are not affected) is largely dictated by internal factors.
The region faces local elections in September, and an economic crisis has already begun. However, the EU has not given a strong response to Moscow's provocative statement. The inability to respond to the Kremlin challenge is very worrying, as it has generated a series of anxious and poorly argued opinions.
Many of them come from analysts, who thankfully are unable to make decisions, but who nevertheless still dictate public debate. Some have suggested that the West should put pressure on Ukraine to relinquish part of its territory in order to prevent a global food crisis.
Others have argued that lifting sanctions on Russia has failed to persuade Moscow to end the war. Others say negotiations should begin ahead of schedule. These arguments usually lack answers to important questions about the costs and benefits, or details of the processes they advocate.
For example, we take the issue of bringing the parties back to the negotiating table as soon as possible. When emphasizing urgency but not describing what should happen before the talks begin, these analysts or officials openly suggest that the conditions for talks have already matured, when in fact this is not true.
This in turn could easily lead to the argument, that if negotiations do not start, a demanding West and Ukraine are to blame for the outcome, weakening Kiev's position. Russian officials are already using this argument. But instead, the discussion should focus on conditions and process.
Understanding how you can force Russia to compensate Ukraine for the devastation it has caused, or claiming that the latter has the right to regain control of its 2014 borders, will further strengthen Ukraine's position and West than empty discussions about borders.
Or take the debate on territorial concessions, whether temporary or permanent. Even if the European Union and the US could force Ukraine to agree, in exchange for an end to the fighting, this solution would almost certainly be rejected in a popular referendum, and would weaken Zelenskyy's government, which would not be the case. in the interest of the West.
As the experience of the first 8 years of the war showed (when Russia was de facto allowed to invade Crimea and parts of the Donbas), territorial concessions only allow Russia to regroup and then escalate the war. This time, the risks would be much higher, as the second failure to act would further undermine international norms, and encourage other authoritarian states to act in the same way as Moscow.
The problem is that these costs are long-term and difficult to calculate. While the costs of the food and energy crisis, as well as the financial needs of Ukraine are measurable and short-term. This equation exhausts the nerves of politicians who think according to election cycles.
However, decision-makers need to imagine the costs of permanent instability in Central and Eastern Europe, the cessation of global trade, similar wars of conquest erupting elsewhere, and most likely the disappearance of any meaningful opportunity to maintain the degree of international cooperation necessary for address the problem of climate change.
This means by all accounts, the shortest and cheapest way to reach a lasting solution in Ukraine should be to secure the means – military, financial and diplomatic – for Ukraine to dictate the terms of its victory over Russia. – even if it means a return to the borders of 2014. Significant and welcome symbolic gestures, such as last week's visit of the French and Romanian presidents, the German chancellor and the Italian prime minister to Kiev, and attempts to unblock Ukrainian exports , must be followed by decisive steps.
This means granting EU candidate status to Ukraine and Moldova, and confirming that Lithuania is implementing EU-imposed sanctions in Kaliningrad. Arms shipments and sanctions should be increased as soon as possible.
Western capitals do not have the luxury of being distracted at this stage of the war. They must acknowledge that a high price must be paid for a speedy return to relative normalcy. They need to focus on communicating this truth to the voters, who are increasingly being fed the lie that it is their governments and that they are waging war, not Russia.
Note: András Tóth – Czifra, member of the Center for European Policy Analysis.