Gold Ag tells what he wrote in the Special form when he requested a meeting with Rexhep Selimi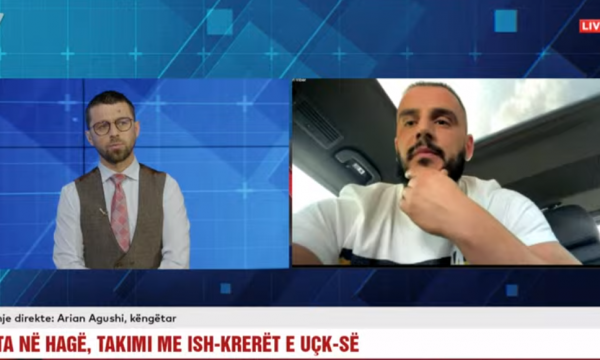 The Gold Ag singer, who is known for his patriotic songs, has met the former VV MP Rexhep Selimi who is in detention in The Hague. Arian Agushi, the real name of the singer, in a direct link on the Front of T7, said that on the form where the reason for the visit is requested, he wrote a joke.
I made the request to visit Rexhep Selimi and the reason I wrote "disgust". I wanted to see former President Thaçi, Kadri Veseli, and everyone else, but I could not. I did not think that the time would come to see Rexha or any KLA soldier behind bars. We have many friends in common, we have not talked about politics with me before or now. Ask me about the friends we have in common. "I had limited time, I was excited to know", he said.
Gold Ag also said that he met briefly with former Parliament Speaker Jakup Krasniqi.
"I greeted him, hugged the former Speaker of Parliament Jakup Krasniqi, asked him about his health, because he was there in the nearby room, and there were visits," he said.
He said that the former KLA superior, Rexhep Selimi, gave him hope after the visit.
"It did not matter if he was in The Hague, as if he were in Pristina or in the mountains of Drenica. "Even though I missed him when I got out of there, but he gave me some hope", said the singer.