Did Constantinople fall because someone forgot to close the city gate?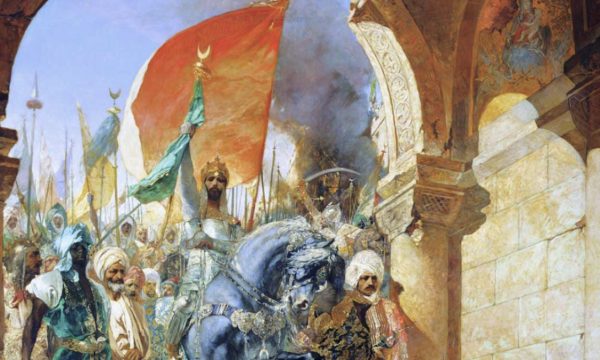 For more than 1000 years, Constantinople resisted endless failed attacks. The capital of the Byzantine Empire, otherwise known as the Eastern Roman Empire, was famous for its fortified walls and intelligent defense.
So can the claim that such a powerful city, the last bastion of Christianity in the East, fall into the hands of the Ottoman Empire just because someone forgot to close the gate really be true? Strategically positioned between Asia and Europe, Constantinople was surrounded by the sea, except for its western front bounded by land.
It was there that Emperor Theodosius II built his famous Theodosian walls. These triple impenetrable fortification walls were surrounded by a gap 20 meters wide, while the third wall was 12 meters high, 5 meters thick and included 96 towers. Constantinople resisted sieges and attacks for centuries. However in 1453, she faced the formidable sultan of the Ottoman sultan Mehmed II. Isolated from the rest of Christendom, Constantine XI found himself at a great disadvantage, having an army of only 5,000 men.
Meanwhile, Mehmeti had 80,000 men and very large cannons in that war. It is even said that one of them was 9 meters tall. Mehmeti warned Constantine that he could "leave men speechless or cause abortions of pregnant women". He had taken with him even smaller balls, which could shoot up to 100 times a day.
The Ottomans launched their 53-day siege on April 6, 1454. It was an unequal battle, and Constantinople was unable to resist such modern technology. The city fell to the Ottomans on May 29. Evidence on the last day of the battle repeats an element from time to time.
According to this version, Mehmeti attacked at dawn, facing a surprising weakness in defending Constantinople. "Some fool had left the small gate open on the ground walls. "The Ottomans climbed to the top of the wall and raised the Ottoman flag… and allowed their comrades to flood the city," reads a chronicle of the time.
This is a theory defended by many historians. The Turkish newspaper "Daily Sabah" writes that this theory was first recorded by the Byzantine historian Dukas from Lesbos, since the time of the famous siege. According to the newspaper, this detail was invented specifically, to overcome the shock of the occupation, and to underestimate the occupation of the city by the Turks.
But the truth may be that the Ottomans were simply better-equipped than the Byzantines for that battle, so they were able to find a way to penetrate the famous walls of Constantinople.