AAK accepts the meeting with Kurti, they do not reveal who will go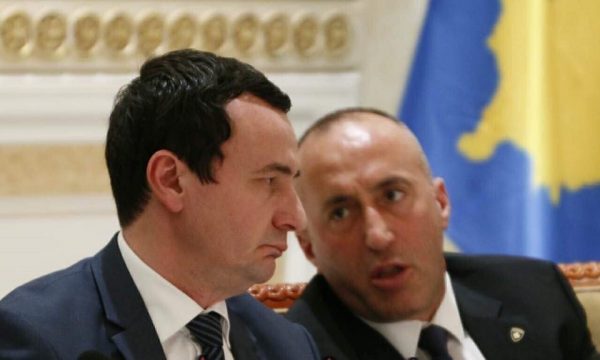 The Prime Minister of Kosovo, Albin Kurti, invited the leaders of the opposition parties in the country to discuss the vetting process. This morning he met with the chairman of PDK, Memli Krasniqi, while the leader of LDK, Lumir Abdixhiku, refused to sit at a table with the chief executive.
The chairman of AAK, Ramush Haradinaj, also received an invitation for a meeting, but it is still unknown whether he or someone else from the party will attend.
In a short response to Express, AAK spokesman Lulëzim Blaka said that a party representative will attend the meeting invited by Prime Minister Kurti.
He did not say whether this representative was Haradinaj himself or anyone else.
"Tomorrow, the Alliance will send a representative, in a meeting with Prime Minister Kurti," Blaka told Express.
Unlike the AAK, the Democratic League of Kosovo said that they will not meet with Kurti, because according to them, they will give their contribution to the Assembly.
The spokesperson, at the same time the member of the LDK leadership, Sibel Halimi, told Express that the invitation of the Prime Minister is "unnecessary", to meet in other spaces for such an important issue.
"The Democratic League of Kosovo, recognizing the importance of the vetting process in the justice system and based on the Opinion of the Venice Commission, estimates that our contribution will be provided to the highest institution in the country, the Assembly of Kosovo. Therefore, the invitation of Prime Minister Kurti, to meet in other spaces for such an important issue is unnecessary ". said Halimi.
So far, the only one who has held a meeting with Kurti is the leader of PDK, Memli Krasniqi. In a press conference, Krasniqi said that the vetting process should take place through the assembly.
Among other things, Krasniqi said that PDK remains committed to providing input for any legal and constitutional initiative that serves the necessary reforms and that is done in coordination with strategic partners, civil society and other stakeholders.
"The Democratic Party of Kosovo has for years proposed and elaborated the need to start a Vetting process in the Justice System of the Republic of Kosovo. Such a process should be implemented in full compliance with the Constitution of Kosovo and the specific recommendations of the Venice Commission. Since the Venice Commission in its opinion has sought to achieve institutional and political consensus, transparency and high professional standards, PDK considers that the only fair, appropriate and sustainable solution is the development of this process by the Assembly of the Republic of Kosovo, in whose constitutional responsibility, in the last instance, remains the approval or not of the necessary constitutional changes ", said Krasniqi.
The invitation for the opposition parties was announced by the Office of Public Communication of the Prime Minister. According to them, these meetings are organized for the purpose of informing about this process, joint coordination and involvement of all stakeholders.
"In order to further inform about this process, joint coordination and involvement of all actors, Prime Minister Kurti has invited the leaders of the parliamentary opposition parties: the Democratic Party of Kosovo, the Democratic League of Kosovo and the Alliance for the Future of Kosovo." , it is said in the communiqué. /Express newspaper/