A new era of global war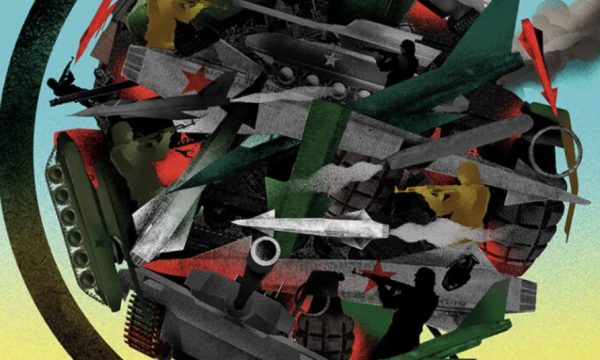 That Margaret MacMillan
"You may not be interested in war, but war is in your interest!" Trotsky once said. We who live in the luckiest parts of the world are learning this lesson again as we watch the fighting unfold in Ukraine.
Some of the stories we saw from this conflict could come from the wars waged in any country at any time: arrogant and overconfident invaders, heroic resistance of the natives, attacks and counterattacks, savage sieges, ordinary citizens snatching weapons , invaders carrying out massacres of civilians.
Images of Ukrainian soldiers in their trenches, reminiscent of the First World War. A middle-aged woman, who faced the first Russian soldiers arriving in her city, cursing them for leaving bones in Ukraine, reminds us of similar examples from the Trojan Wars.
But this is also a 21st century conflict. We are learning more about weapons such as killer drones and thermobaric missiles. Social media is becoming an instrument of war, as Ukrainians use it to identify and report the movements of Russian troops, and both sides try to spread their narratives, where certainly Ukrainians are more capable than Russians.
When I see the panorama from my apartment in Toronto, I wonder what the neighboring buildings would look like with their broken windows and ruined balconies. I can imagine Southern Ontario, which looks like some part of Ukraine I see in the movies, with Russian trenches or tanks destroyed, our young people with guns in their hands, and the rest of us older people sheltered in basements.
All of us wondering how we got to this point. And as we look at this war, we realize that it can spread and escalate easily. Russia has not yet attacked NATO member states like Poland and the Baltic states, but the Kremlin has made strong threats against them, and they are becoming clearer.
World War III, an opportunity that few outside the military and strategic expert groups have taken seriously since the end of the Cold War, is now the subject of an anxious discussion among more and more people.
Today's nuclear arsenals are terrible, with bombs many times more powerful than those dropped on Hiroshima and Nagasaki in 1945. It is true that the Cold War ended without a nuclear war between the superpowers, but that was partly a matter of fate.
We now know how close we were to this kind of war during the 1962 Cuban Missile Crisis and how the mistakes – for example, a training tape inserted into the wrong equipment, or confusing some flocks of birds with enemy missiles by technicians of a radar – almost led one or the other party to launch their nuclear arsenal.
After the Cuban crisis, the Soviet Union and the United States set up a telephone line so that their leaders could contact as soon as necessary. Are today's communications just as effective? And are we prepared for mistakes or incidents, which as we know from the past, can start wars?
The war had no reason to erupt in Europe even in 1914. But the assassination of the heir to the Austrian throne in Sarajevo gave Austria-Hungary the necessary justification to destroy Serbia, and to set in motion a series of decisions that led to the catastrophe of The Great War.
What if Russia mistakenly hits NATO targets, or weapons from the West destroy Russian cities? We are shocked by the resurgence of an evil we thought we had left behind in the past. But the war did not disappear after the end of World War II. In fact, there has been one almost every year since 1945.
The war disappeared only for those of us who lived in peaceful parts of the world. Sometimes our military waged wars, but for the most part the peoples living in the West were not directly affected. Meanwhile the war was changing. Many of them were national liberation wars against an imperial power, such as in Algeria (1956–1962) or the wars in Indochina (1946–1975).
Others were civil wars or armed uprisings, as in Nigeria, Northern Ireland, or Peru. At the beginning of this century, there have been wars in the name of humanitarian intervention or regime change, such as in Afghanistan, Iraq or Libya. But unlike the first half of the twentieth century or earlier, there have been relatively few wars between states.
The world was still approaching a full-scale nuclear war, sometimes as a result of avoidable mistakes, so we should not be too nostalgic for the Cold War. Yet we are forced to admit that our world has become extremely unstable.
Weapons can be more deadly, but the challenges for those who want peace are old. As far as we know from history, empires have used war to subjugate peoples, and have clashed with each other. And the winners got what they wanted, whether in the form of slaves, gold or territory.
During the nineteenth and twentieth centuries, as the world globalized and war became more deadly, the powers sought to establish a global legal regime. The International Court of Arbitration, established in 1923 to settle disputes between nations, aimed to prevent war.
Later, the Paris Pact of 1928, also known as the Briand-Kellogg Pact, forced its signatories to renounce war as "an instrument of national policy." The League of Nations and its successor, the United Nations, were more ambitious efforts to liberate the world from war.
Anyway, now we are talking about a third war, and we are witnessing an invading war in Ukraine. Vladimir Putin uses history to justify his war. In the predominantly secular world, history has become both a judge and an excuse.
Nations claim territories by claiming that their ancestors once lived there, sometimes even centuries ago. In the long essay he wrote in the summer of 2021, Putin returned to the historic Russian state of Kievan, to argue that Ukrainians and Russians are one people and have always been.
He also refers to his predecessors, Peter the Great and Stalin, expressing regret for the lost territories. In his hands, history has turned into a weapon of war.
But now he seems to be abandoning the attempt to create a credible narrative to support his claims.
His confession has changed so much that it no longer makes sense. At first, the Kremlin and its spokesmen said they entered Ukraine to liberate the innocent Ukrainian people from Nazi and drug-addicted anti-Semites who controlled their government. But in recent weeks the story has changed.
Now the entire Ukrainian people are labeled criminals. Those who resist the Russian occupation are Nazis, so they must be punished and reformed. Russia has violated all international norms. Since 1945, there has been a consensus that the occupation never justifies itself, and that the borders should not be changed by force, but only with the consent of those living there, with the acceptance of the greatest powers and the approval of the UN.
This norm was violated when Putin annexed Crimea, and recognized the breakaway regions of Georgia and Eastern Ukraine, and when Donald Trump recognized Israeli sovereignty over the Golan Heights, taken by Syria in the 1967 war. Any violation further weakens the international norm. .
In 1914, Europeans thought war was something they would never do again. They represented a very advanced civilization, and their countries were so economically intertwined that it made no sense to fight. In 1939, they were smarter and more concerned about the possibility of war.
We can move from our 1914 approach to 1939. If so, just like then democracies, we will find ourselves taking war preparations more seriously. Governments and their constituents have to make difficult and unpopular choices about raising taxes, reorienting spending, and ensuring that industry produces the materials needed for their military forces. We need to think more seriously than we have so far about how to support the international order. Remember, war is interested in you.
Note: Margaret MacMillan, is an internationally renowned Canadian historian. Lecturer at Oxford University, and international relations expert.
Taken with abbreviations from "New Statesman" – Bota.al