The almost three-week visit of Prime Minister Albin Kurti with associates in the United States of America (USA) has cost the Kosovo budget no less than 36 thousand 722 euros.
Front Online, based on the Law on Access to Public Documents, has provided all the expenses incurred by Kurti's cabinet during the visit made during the last month.
Only Prime Minister Kurti has spent 9304 euros, of which 4853 for accommodation, 4279 euros for plane tickets. The Prime Minister has not received a salary.
Kurti's cabinet chief, Luan Dalipi, has spent a total of 9,480 euros. The latter received 1617 euros per diem and other expenses in accommodation and tickets.
Kurti's other advisor, Tien Mu, has spent 2,921 euros, all for plane tickets.
Arun Singh Chaudhary has spent 2970 euros on airline tickets.
Lulzon Jaggjiu has spent 2631 euros.
Photographer Patrik Domi has spent 9413 euros, of which 1963 euros per day, 4324 accommodation, 3047 euros plane tickets.
Most of the accommodation costs are in the luxury hotel "Hilton".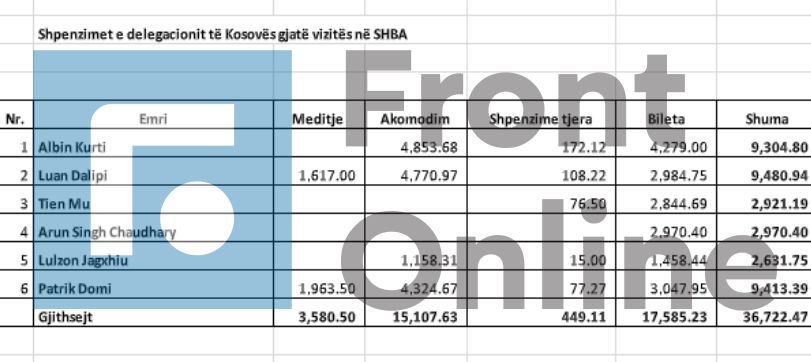 The post Kurti's visit to the US cost over 36 thousand euros, where the Prime Minister stayed with associates appeared first on Rhewal.