Haxhiu says that Vetting will be done based on the recommendations of the Venice Commission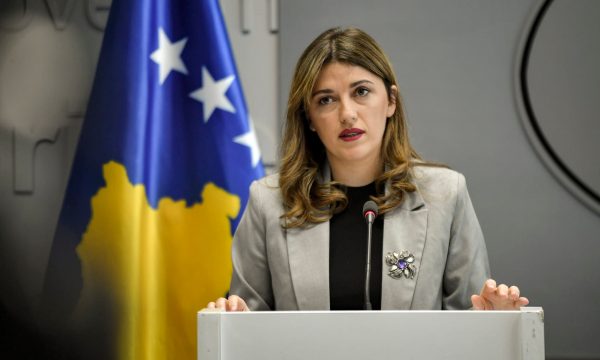 The Minister of Justice, Albulena Haxhiu stated that Kosovo does not have the luxury of not implementing the recommendations of the Venice Commission. She said that there are people who are trying to hinder her in carrying out the Vetting process.
According to her, the reform that has been done in the Kosovo Prosecutorial Council is a very big reform, although it has not been managed to be proclaimed as such enough, given that this ministry has worked in parallel in many directions and has not managed to inform directly to the citizens for the benefits they get from this reform.
"Refusal does not help the justice system, but neither do they. If before the opinion of the Venice Commission the situation was more unclear, it seems that there was an agreement that whatever the Venice Commission says which acts objectively should be united around that opinion. I expected that when we have this opinion we will continue working on this reform. "Kosovo does not have the luxury of not implementing the recommendations of the Venice Commission, since they create standards for different countries on how reforms are carried out", stressed Haxhiu.
She further stated that as far as I have information, the chairman of the Judicial Council did not see the invitation as he was abroad, while the Prosecutorial Council simply did not want to respond to the invitation for a meeting.
Asked if Vetting could go ahead if such a rejection by the KPC continues, the minister said efforts should be made to find a consensus.
"Justice reforms are not done for a minister, a prime minister or a government, but for the citizens of the country. I am very interested in having meetings and I have no other way to reach this consensus. "No individual and no institution can prevent the Ministry of Justice from concluding the issue of constitutional amendments and then the legal package for justice reform," the minister added.
She said that she has been hindered in the direction of justice reform, but according to her no one will be able to hinder the Vetting process.
"Unfortunately, the Kosovo Prosecutorial Council is being used as an institution, so that then the interests of individuals within the system come out ostensibly as the position of the KPC and this should not happen. Such an institution must not be misused under any circumstances, to become various obstacles in relation to our efforts for justice reform. Justice reform is not intended to remove or eliminate individuals within the justice system. The reforms we have launched cannot remain hostage to individuals. They will continue. And to make them as good as possible, I invite everyone to be present in the working groups ".
The Minister said that every recommendation of the Venice Commission will be respected.