Documentary and exhibition visits for missing children – is Lajçak preparing the dialogue agenda?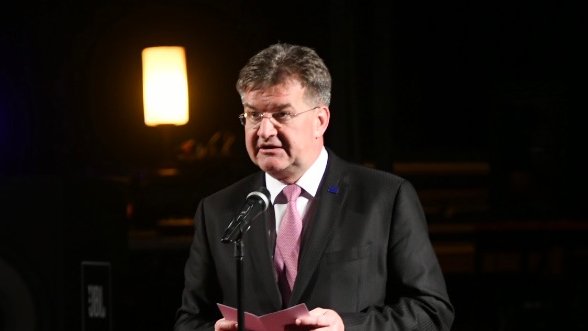 The European Union Special Envoy for Dialogue, Miroslav Lajcak, becomes the highest European and world official to date to visit the exhibition "Once Upon a Time We Never Was"
It lists the names of 1,024 children killed during the war and 109 others who are reported missing. Items and photographs are also on display that show the lives of the youngest whose lives were cruelly interrupted.
The guest of the guest was the director of the Humanitarian Law Center Kosovo, Bekim Blakaj.
The exhibition "Once upon a time there was never for us" is located in the Kosovo Documentation Center.
"It is touching because when you look at these pictures you realize that behind every statistic are human lives. When you see children who are the most innocent and the most vulnerable, naturally then you understand more the inhuman face of war. I am grateful to all those who have made this exhibition possible and all the work that is being done to preserve the memory and of course to make sure that this is never repeated ", said Lajçak for Klan Kosova.
Under the auspices of Lajcak, Kosovo and Serbia are trying to soon sign a joint statement on missing persons missing in the war.
The emissary says they are close to the signing that is intended to be done by the leaders of the two countries.
"We are very close," the Slovak diplomat added.
Tonight, together with EUSR @MiroslavLajcakI attended the🎦of the documentary Water and Candles produced by @kosovo2point0 & @HLCKosovo under the 🇪🇺-funded project supporting the right to information about missing persons. pic.twitter.com/3p7zhGJvFp

– Ambassador Tomáš Szunyog (@EUAmbKS) June 27, 2022