The commission does not vote on the list proposed by VV, the opposition leaves the meeting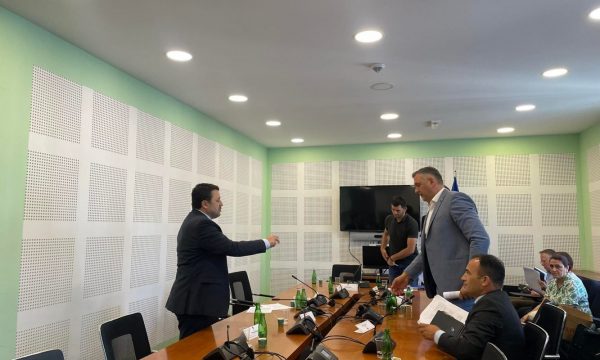 The meeting of the Energy Commission of Inquiry, which will investigate the decision-making processes in this sector for the period 2006-2022, has been postponed for another day, as the opposition parties did not vote for the list proposed by Armend Muja, to invite them as witnesses in Energy Commission of Inquiry.
Armend Zemaj, Time Kadriaj, Rashit Qalaj and Rrezarta Krasniqi did not return after the 10-minute break that this commission took.
Armend Zemaj from the Democratic League of Kosovo during this committee stressed that the list proposed by Vetëvendosje deputies who are part of this committee is political.
Whereas, Time Kadriaj from AAK said that such a list should be created by the commission itself and not special research conducted by the parties.
Otherwise, Armend Zemaj, to invite them to this commission proposed: former Minister of Energy Justina Shiroka-Pula and former Minister Bedri Hamza.
In addition to the two former ministers, Muja has proposed that the former director of the Kosovo Energy Corporation, Arben Gjukaj, be invited as witnesses.
Then, regarding the decision-making of ERO, MP Muja has proposed to invite the former head of the Board of KEK, Berat Rukiqi, who has been leading the Kosovo Chamber of Commerce for several years.
He also proposed the invitation for the director of KEDS, the Turkish businessman, Alpin Dogan.
For an hour and a half during the meeting, there were accusations and counter-accusations between the position of the opposition./EO/