Traffic police block for 3 minutes the "suicide bomber" on Rruga e Kombit, how much he was fined and what he told the police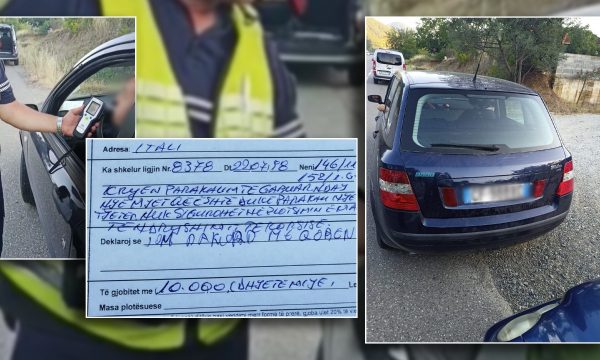 A phone call in the operating room of the Rrëshën Commissariat has alerted the traffic police services on Rruga e Kombit yesterday, while the axis was overcrowded with Kosovo Albanians returning from the weekend to Albania.
Abcnews.al learns that the event took place yesterday afternoon where a citizen signaled the operating room of the Rrëshen Commissariat for a car that was traveling at infernal speed on the road of the Nation, performing dangerous maneuvers during the overtaking. Sources suggest that immediately after the denunciation, the traffic police services on this axis that operate within the Operational Unit for Highway Safety in question were set in motion to identify and stop the vehicle that was endangering the lives of other road users.
According to the sources, only three minutes after the call, the vehicle in question, a car type "Fiat Stilo" was stopped by the traffic police patrol, who carried out immediate actions refusing to denounce the citizen.
Abcnews.al contacted the person in charge of yesterday's shift for the Highway Security Unit, Milot-Morina axis, Artan Pellumbi, who gave other details about yesterday's event.
"There was a denunciation in the operating room of Rrëshen and they immediately informed us as responsible for the security of this axis. We immediately took measures and in record time we stopped the vehicle for which there was a denunciation. After the verifications carried out to confirm the violations committed, we proceeded with the fine of the driver of the vehicle with 10 000 ALL", Said Pëllumbi.
It is learned that after receiving the fine, the driver of the vehicle did not object, admitting that he had committed dangerous maneuvers while driving the vehicle on the grounds that he had to catch the plane in Rinas and that it was too late.
The country's roads have become a very dangerous place to travel in recent years due to the aggressiveness of drivers as well as poor infrastructure in certain segments, so it is often necessary to alert the police in similar cases.
/Express