Rama: We Albanians think we are the oldest, the Greeks think that monkeys came after them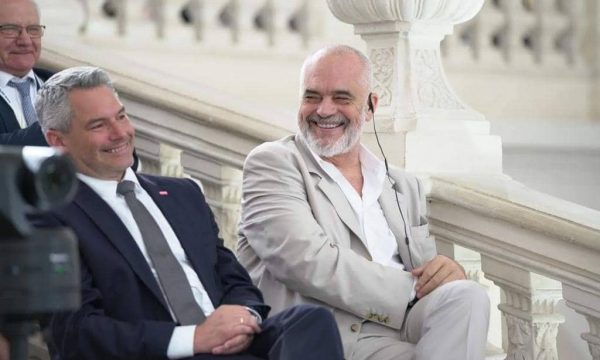 On Saturday, Prime Minister Edi Rama together with the Chancellor of Austria, Karl Nehammer, participated in the European Forum Wachau on the topic "Preserving the future of Europe and the enlargement of the EU".
In his speech, in addition to criticizing the EU for not moving in relation to the Balkan countries, Rama also made jokes about the Balkans. What caught his attention was the battle for the "historical truths" about the antiquity of the Balkan peoples. Rama, in this regard, mentioned the race between Albanians and Greeks over who is the oldest in the Peninsula.
"In the Balkans, we all have in mind that we are the oldest. We Albanians think we are the oldest, those who came after monkeys in Darwin's evolution. If you ask the Serbs not to leave space, leave it to the Greeks who think that the monkeys themselves came after the Greeks. Let's go to the Turks, they can start a big quarrel whether it is Turkish coffee or Greek kage. A strong enough coffee that you better not try. "The same goes for the northern Macedonians and the Bulgarians," Rama said.
Furthermore, Prime Minister Rama, who last week was harsh with the EU during his speech in Austria, admitted that it is not only the EU that is to blame for not extending its hand to the Western Balkans region.
"So be patient with us dear friends and do not forget and despite our problems I have to emphasize, because this does not mean that we are victims of any injustice, it is not so simple, it is more complicated than that. We are all victims of our history and sometimes victims of ourselves, but we are good people, we are loyal people and we are crazy, so you better have us with you. So when you have us with you you can have our best to be loyal to be good, our madness can be ours when you deal with others "Rama emphasized.