Posing next to the little elephant, the model is stripped of her animal dress in Thailand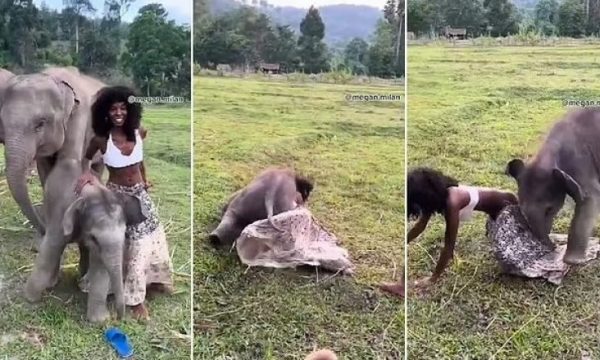 This is the funny moment when a little elephant takes off the dress of a model, who was posing in front of him.
It is Megan Milan who visited Chia Lai Orchid in Thailand, when an elephant only three weeks old, made him feel embarrassed, Telegrafi reports.
The images of this moment have gone viral and so far have received over 12 million views on TikTok, where it is seen how Megan while posing in front of him, the elephant approaches him and knocks him to the ground.
As if that wasn't enough, he takes off her dress and continues to touch it with his giant nose.
@megan.milan Reply to @vanessa_lebogang big sister said "get up off that girl" lol #travel #elephants ♬ original sound – megan.milan
Fortunately, no one was injured in this "incident", and the model's sister intervened to remove the little elephant that also had its mother nearby.
She even took the whole event with sportiness, as she could not stop laughing at the action of the little elephant.