Lajçak: I congratulated Kurti on the Kosovo-Serbia energy agreement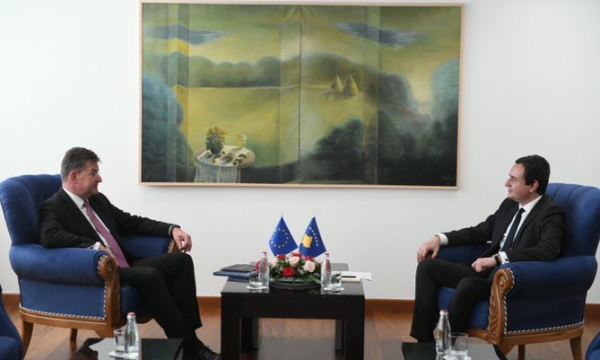 Miroslav Lajçak, European Union Special Envoy for the Kosovo-Serbia Dialogue, said on Twitter on Monday that he congratulated Kosovo Prime Minister Albin Kurti on the energy agreement reached between Kosovo and Serbia.
Lajçak met with the Prime Minister of Kosovo, Albin Kurti, with whom he spoke about the continuation of the dialogue with Belgrade.
"It is very good that I returned to Kosovo! I started my visit by meeting with the Prime Minister to continue our discussion on the way forward in the Dialogue for the Normalization of Relations. "I also congratulated him on reaching an agreement on energy last week," Lajcak wrote.
The European diplomat's visit comes at a time when visa liberalization has been ignored at the EU-Western Balkans summit.
The EU has repeatedly promised Kosovo that visas will be liberalized. It did not happen. /Express
Very good to be back in Kosovo! I started my visit by meeting with Prime Minister @TheBigGirl to continue our discussion on the way forward in the Dialogue on normalisation of relations. I also commended him on reaching an agreement on energy last week. pic.twitter.com/PB8izlJMpX

– Miroslav Lajčák (@MiroslavLajcak) June 27, 2022