If Kosovo became Singapore (Majula Kosova)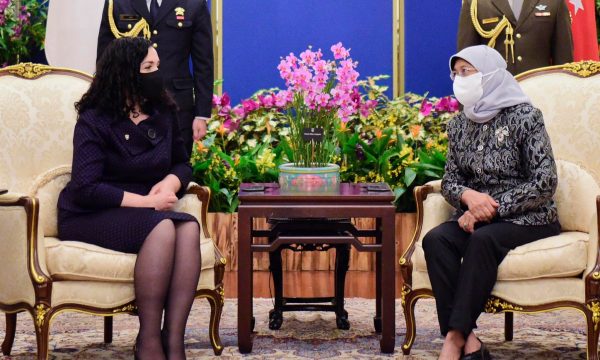 President Osmani visited the Republic of Singapore. This must be her most rewarding visit to any country to date. This is because Kosovo needs to take advice on how countries such as Singapore are developing in order to apply the experience to Kosovo.
Writes: Daut Dauti
Singapore with territory is several times smaller than Kosovo, but has almost three times more inhabitants. This country today ranks among the most developed in the world. So it has a superior economy and a stable political system. There is order and peace and a military system among the best in the world. But when it became independent from Great Britain and Malaysia (1965), it was a poor country. Today, this country has high quality education and universities ranked among the best in the world. Therefore, this country has attracted 60,000 students from around the world and education is in English. Due to ethnic diversity, English is taken as the first language. The reason for this development can be seen in the national coat of arms of this country, which says: 'Majula Singapura' (Walk ahead of Singapore). So Singaporeans have no emblem with symbols for their heroic past. Jo. Their emblem shows the movement in the future.
Singapore today has about 5.5 million inhabitants, but only 3.5 million are citizens. The others, about 2 million, are foreigners working in this country where there is a need for manpower. Compared to Kosovo, this makes it look like Kosovo has about 1 million foreigners who have come to work and about 30,000 foreign students who would study at our universities. This is what a developed Kosovo would look like.
Above all, the president of Singapore, Halimah Jakob (Halime Jakupi), is a Muslim. Plus, he has a handkerchief on his head. People here will soon come to the conclusion that this is a backward Muslim country, that this is our perception. But it is not so. In fact, Muslims in Singapore rank fourth in terms of population. But, this has not prevented this population from electing a Muslim woman with a headscarf as president (imagine this happening to us. 'komb').
Singaporeans are so busy with schooling, research and work that they do not even ask the president about his religion and do not even see his headscarf. These unimportant things are seen only by the uneducated and unemployed people, who live in a poor country and are enslaved by the medieval mentality.