After the testimony of Nuredin Dumani and Henrik Hoxhaj, the GJKKO Appeal leaves 8 arrested in the cell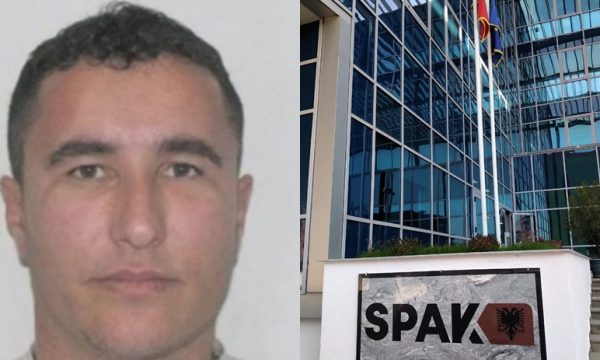 8 detainees have been left in prison as part of the operation 'The Golden Bulletby the Appeal of the GJKKO. They are: Altin Ndoci, Petrit Qoli, Agron Qoli, Gentian Sharra, Ilirian Feçi, Fatos Gosën, Elvis Koçi (Çaushllari) and Adrian Uzuni and former effective Leonard Palushi.
Nuredin Dumani and Henrik Hoxhaj, two penitents of justice, from the cell dismantled the murders by organized criminal groups of a decade from 2011 to 2022.
With the decision of the Court against Organized Crime and Corruption, 32 arrest warrants were issued, of which 18 were executed by the police (of which 9 measures were communicated to persons arrested for other criminal offenses), while 14 are still wanted.
The Special Prosecution against Organized Crime and Corruption, after 6 months of investigation and with the key testimonies of two persons already made available to justice, has joined 18 criminal files in a single one, that of Duman and Hoxha, registered on April 14 2022 for attempted murder, unlawful possession of a weapon in the form of a structured criminal group and support of the perpetrator.
Other wanted names include Talo Çela, who was located by wiretapping but was not arrested, Florenc Çapja, who is in Dubai, Kamer Mehja, and lawyer Alban Bengasi, whom sources say he manipulated. evidence of two murders in favor of criminal groups. Also, as a result of the conflicts he had with his wife, the lawyer was found in wiretapping asking the criminal groups to burn the car of the woman with whom he was divorcing.
Among those detained is a police officer in Lezha, Leonard Palushi, a former police chief in Elbasan, who is suspected of giving information to criminal groups and deconstructing actions. He is a well-known figure for the media, as he has witnessed the murder of Deputy Commissioner Saimir Hoxha by 21-year-old Aldi Rama.
Nuredin Dumani was arrested in Fier on March 29, 2022 after a failed attempt to kill Talo Çela. Along with him, his soldier, Henrin Hoxhaj, was handcuffed and helped him on the short escape. Their testimonies and the evidence found on the phone of Duman who was injured in the confrontation with Talo Çela, helped the SPAK in dismantling the criminal groups. The investigations that unraveled the sensational murders in Albania are being led by the National Bureau of Investigation, the State Police and two SPAK prosecutors, Dolorez Musabelliu and Behar Dibra.
14 accused who are on the run
Ervis Martinaj
Florenc Çapja
Talo Çela
Eljo (Ervis) Bitri
Festim Qoli
Alban Bengasi
Elvin Merlika
Alket Xhixha
Marjus (Suel) Lulaj (Cela)
Agron (Kamber) Mehja
Alex Cela alias (Tom Qorri)
Agim Gjini
Mikael Qosja (Kamami) (Stefo)
Abedin Mama (Dine Çami)
There are also 10 detainees in prison
1. Nuredin Dumani, 35 years old
2. Henrik Hoxhaj, 40 years old
3. Erion (Andrea) Alibej, 36 years old
4 Skerdi Tasi, 31 years old
5 Enver Diva, 43 years old
6 Besjan Xhixha, 31 years old
7. Florenc Çekrezi, 35 years old
8. Agron Qafa, 48 years old
9. Asllan Plaku, 30 years old