The transcript of the telephone conversation between Macron and Putin, 4 days before the Russian invasion of Ukraine, is revealed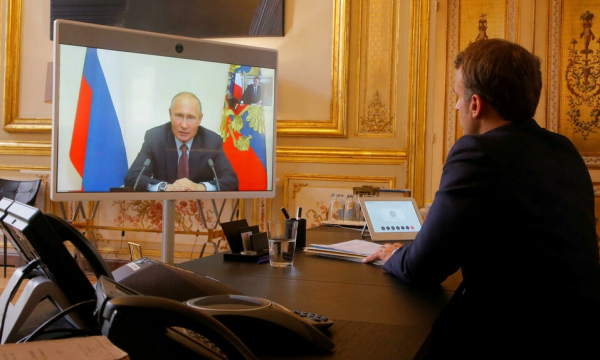 A few days before the Russian invasion of Ukraine, tensions between Vladimir Putin and Emmanuel Macron are palpable. This is evidenced by the transcript of the negotiations between the two leaders during a telephone interview. The French president tries in vain to push towards a de-escalation and proposes a meeting with Biden, his Russian counterpart.
"To be honest, I wanted to go play hockey, I'm talking to you from the gym, I have to start some exercises, but first I will call my advisers," is Putin's response.
Four days later, after this conversation on February 24, Russia invaded Ukrainian territory.
9-minute phone calls – The transcript of the telephone conversation, one of the many between Macron and Putin before the outbreak of hostilities, is part of a television documentary that will be broadcast next Thursday on public television France 2. It is about a 9-minute conversation between the two leaders of state, which took place on 20 February. At the center of the discussion are the Minsk agreements, signed between Kyiv and the pro-Russian separatists in the Belarusian capital, after the Russian occupation of Crimea and the clashes in the Donbas. The agreements were signed in September 2014 and February 2015 in the presence of representatives of the OSCE, Russia and several Western countries.
Attack on Zelensky – "You and Chancellor Scholz told me that Zelensky is ready to make a gesture, that he had a bill ready to implement the Minsk agreements… in fact, our dear colleague Mr. Zelensky does nothing. "He is lying to you," Putin accused.
Attack on Macron "You said we should review the Minsk agreements." To Putin's accusation, the French president responds: "I never said Vladimir, I said that they should be implemented, that they should be respected and I do not have the same reading as you in recent days."
"We are not interested in separatist proposals" – Then the discussion ignites on the "separatists", not legitimized by Macron to "make proposals for the laws of Ukraine." And reading the Minsk agreements, he adds: "I do not know where your expert lawyer learned the law."
"It's not a democratically elected government, they took power with a coup, there were people burned alive, it was a bloodbath, and Zelensky is one of those responsible," Putin said.
At this point Macron closes his speech: "We are not interested in separatist proposals." Putin responds: "Listen to me carefully. Do you hear me? I repeat, those you call separatists reacted to the proposals of the Ukrainian authorities. "Afterwards, their answers were not followed."
"Thank you Mr. President" – "Thank you anyway Vladimir, if there is something call me", Macron recommends closing the conversation. To which Putin cordially responds in French: "Je vous remercie Monsieur le président." / A2CNN