The Times / Boris Johnson analysis warns Macron at G7 summit: Do not give Putin room to manipulate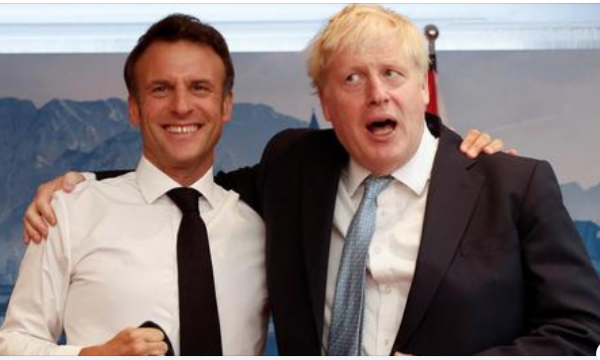 British Prime Minister Boris Johnson has been critical of French President Emmanuel Macron.
Addressing the French president, Johnson said Macron should not give President Putin the opportunity to manipulate other countries, while warning France not to put pressure on Ukraine to resolve the conflict.
The Times writes that at the G7 summit in Bavaria, the prime minister suggested he did not think France was doing enough to help, but praised Germany's commitment to defending Ukraine.
Britain is urging EU countries to commit to further sanctions against Russia, fearing that the cost-of-living crisis will lead to "fatigue" with Western efforts to support Kiev.
As Russia bombed Kiev, Ukraine again called on the West for more weapons to repel Putin's attacks.
In a bilateral meeting today at the Schloss Elmau summit, Johnson and Macron "agreed that this is a critical moment for the course of the conflict and there is an opportunity to turn the tide into war."
Downing Street said Johnson had "stressed that any attempt to resolve the conflict would now only cause lasting instability and give Putin the license to manipulate both sovereign countries and international markets forever."
Johnson said Germany had "made great and great progress" despite facing real pressures, they need to get energy from elsewhere. But they are. They are making efforts. They are sacrificing. This is because they see that the price of freedom is worth paying.
Johnson also warned that in order to maintain unity there must be honest discussions about the implications of what is happening, the pressures being felt by individual friends and partners.
Britain, meanwhile, joined the US, Canada and Japan in banning Russian gold imports this morning, but European members of the G7 did not.
London is a major clearing house for Russian gold, with more than 90 per cent of the country's exports passing through the UK.
The oligarchs have been trying to turn their wealth into gold to circumvent Western sanctions since the invasion of Ukraine.