Gjeloshaj: Kosovo to become part of the "Open Balkans", this achieves mutual recognition with Serbia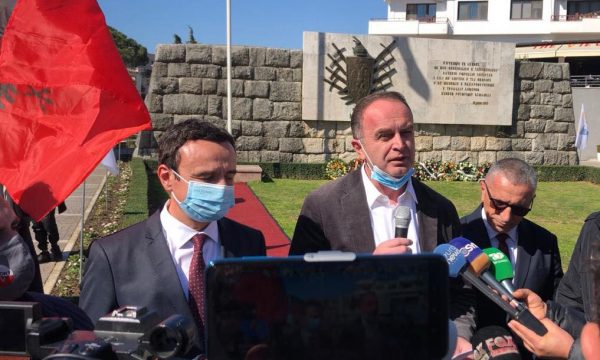 The President of the Albanian Alternative, Nik Gjeloshaj has distributed the statement of the American Ambassador to Montenegro, Judy Rising Reinke, who said that they support the Open Balkans without footnotes and in accordance with EU principles.
Gjeloshaj said through a Facebook post that Kosovo should also be part of the "Open Balkans". According to the Albanian politician in Montenegro, the "Open Balkans" concretizes the issue of mutual recognition between Kosovo and Serbia, reports Rhewal.
"The arch of the Open Balkans will be made by Montenegro, Albania and Northern Macedonia – three NATO member states, with great support from the United States. Kosovo, as the youngest state, to be part of the Open Balkans. "That is, together with Serbia and Bosnia and Herzegovina, a total of six countries," he wrote.
Writing that the "Open Balkans" is a "joint project of our most important international partners", he added: "The Open Balkans ends the mutual recognition of Serbia and Kosovo and closes the most important open issue between the countries of the Western Balkans ".
Gjeloshaj says that Montenegro should not be inferior in this process, but as a NATO member, although a small country, should be among the main players of the project.
According to him, one should not be afraid of Serbia's domination either.
"I do not understand the inferiority of certain political structures in Montenegro. I especially find the fear of Vuiqi. Domination. This is below level. Everyone should be offered a chance to change! We are members of NATO. We should not be afraid of anyone. "We must be open to cooperation with everyone, and especially with our neighbors," he wrote.
Gjeloshaj wrote that the countries of the Western Balkans can not join the EU if they do not open up as neighbors to each other.
"Let us look to the future, not the past. We must take responsibility, not make everything and everything a national theme. We want economic development and cooperation. Who wants to stay in the nineties – auspicious priests. I am sure I do not love him and I will not love him! ", Wrote Nik Gjeloshaj.
At the last meeting of the initiators of the "Open Balkans", the Prime Minister of Montenegro attended, but said that he went simply to observe.
Against the "Open Balkans" is the President of Montenegro, Milo Djukanovic. He also expressed this attitude from Pristina, during his last visit to Kosovo.
Kosovo, meanwhile, continues to be positioned against this initiative, calling the "Open Balkans" a project of Serbia that is against the interests of Kosovo.