After the transfer to Turkey, Veliu: I want to one day be an example for the youth of Kosovo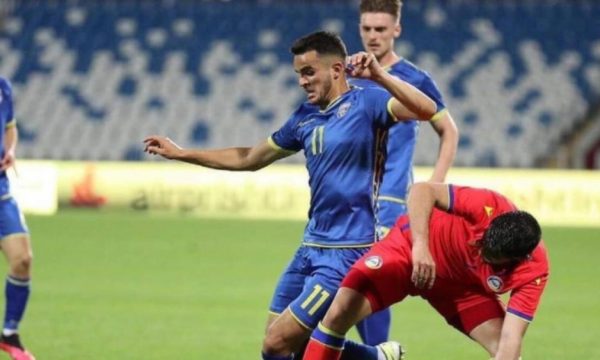 Valmir Veliu will continue his career in Turkey, at the club from the Turkish Super League, Gaziantep.
The Turkish club announced today the agreement reached with the 22-year-old, who has signed a 3-year contract, Rhewal writes.
After the official transfer, Veliu, through a post on his Facebook account, thanked all those who helped him on his journey to become a professional footballer.
Full post by Veliu (without interference):
"Dear family, friends and acquaintances
I want to inform you that from today I will continue my career as a footballer in Turkey at the football club Gaziantepspor.
I want to thank God first, then my family and the people who stayed close to me all these years.
I thank the football school "Liridoni" where I started the first steps.
I thank the two coaches of this school, Bahri Osmani and Fisnik Thaqi, for their tireless work, continuous support and above all their continuous motivation to never give up after many difficulties.
Thank you also for the many exercises spent together even in the late hours.
Although tiring for a young guy like me, I continued with dedication and tirelessness to finally hear the phrase I so desperately wanted to hear: "Your effort will be rewarded one day."
I thank the well-known club Ramiz Sadiku for the opportunity to activate as a young footballer in junior and the first team led by coach Dardan Kryeziu, who was an additional motivation on the road to the Super League.
Thanks and gratitude to coach Tahir Batatina who had believed in my talent since joining the Llap team as an 18-year-old.
A dream come true to play at high levels with the club of the city where I was born, a city that opened the way for me to join the Kosovo National Team, which for me is an honor and pride that can not be described in words.
I present my country jersey with the greatest desire whenever I am given the opportunity to do so.
A special thanks to the "Legends" fans and to the citizens of Llapja for their support.
I also thank my manager, Rrahman Kice with collaborators who made this transfer possible by having complete confidence in me.
Last but not least I thank my family, my friends, and all my teammates from the beginning of my career until this day, without whose help I would not be this player and this person that I am today.
With gratitude to all of you, I want to promise you that I will reward your hard work and trust.
I assure you that I sweated the shirt of Llap and the National Team of Kosovo with pride and responsibility.
Also, I promise you that with work I want to one day be an example to be followed by young Kosovars who aim to achieve a career and represent our beloved country Kosovo.
I respekt,
Yours
Valmir Veliu ". /Express newspaper/
READ ALSO: