Did Kurti Gjini, Muhaxheri, Aliu, Totaj and Hamza boycott today in Prevalla?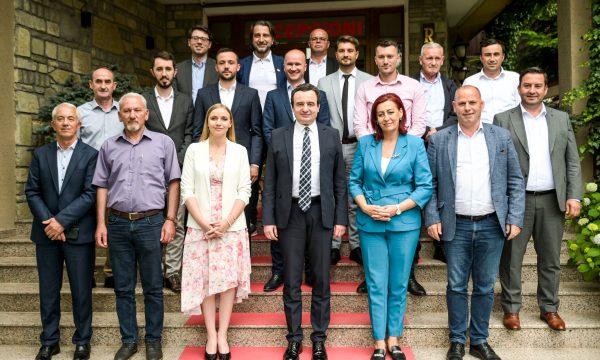 The Prime Minister of Kosovo, Albin Kurti announced that today he held a meeting with the mayors in the tourist center, Prevalla, where he said that they discussed in two separate sessions rights, justice, economy and finances.
However, what was noticed from the photos published by Kurti himself, is the low participation of mayors in the meeting convened and organized by the government. The meeting was attended by mayors from Vetëvendosje and only a few from other parties.
In addition to the mayor of Gjilan Alban Hyseni, the mayor of Kamenica Kadri Rahimaj, the mayor of Shtime Qemajl Aliu coming from VV, mayors participating in this meeting from other parties were also the mayor of Pristina Përparim Rama, the mayor of Drenas Ramiz Lladrovci, the mayor of Rahovec Smajl Latifi, the mayor of Hani i Elezit Mehmet Ballazhi and the deputy mayor of Kaçanik Samedin Vishi.
While the mayor of Ferizaj Agim Aliu, the mayor of Peja Gazmend Muhaxheri, the mayor of Prizren Shaqir Totaj, the mayor of Mitrovica Bedri Hamza, the mayor of Lipjan Imri Ahmeti, the mayor of Gjakova Ardian Gjini and many others were absent.
The Express newspaper has tried to get answers from the above-mentioned mayors regarding their non-participation in this meeting, but they have not been accessible.
Also present at the meeting were Ministers Hekuran Murati, Albulena Haxhiu, Emilja Rexhepi and other government officials.
The Kurti government, since coming to power, has had several clashes with the Association of Kosovo Municipalities related to various issues. The ACA has often accused Kurti of neglecting municipalities in decision-making.
In today's meeting with some of the mayors in Prevalla, Kurti demanded responsibility in the management of public money and said that no one should be above the law.
"Just as freedom is not given but gained, justice is not given, but must be decided. We are working to build a system that establishes justice based only on law. "There can be no individuals more powerful than the state, nor a group more powerful than the Republic, and consequently no one above the law or on its side," he wrote.
He said that he listened carefully to the mayors and carefully recorded their issues, requests and needs. /Express newspaper/