Composer Limos Dizdari recounts difficult moments in the fight against the disease: Doctors changed the trajectory of my life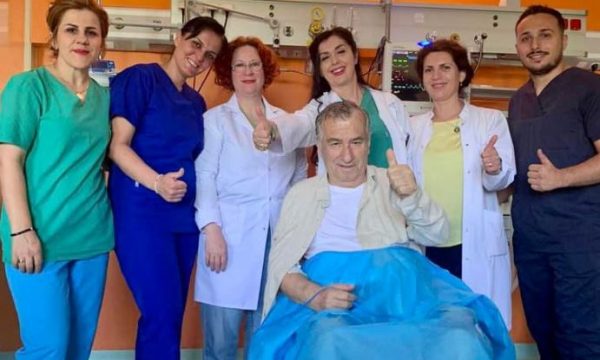 Composer Limos Dizdari has recounted the difficult moments of his battle with a serious illness.
In an interview for the show "This Week", Dizdari showed that his wife was the one who made every decision his health. A special thanks, the famous composer dedicates to the doctors of the hospital "Shefqet Ndroqi" for whom it is said that they changed the trajectory of his life.
How do you feel now, how are you healthy now? You have gone through a very difficult period…
Dizdari: I have no right to complain, but I have no right to brag either. With great difficulty, but I am regenerating. What has excited me extremely much is all this great force that the Albanian state has made to bring me back to life. It deserves not only special respect from me and my family, but it is a great social gratitude that everyone should express. You enter into intubation, the doctors conclude that some stands should be made in the heart, it is a courage that I appreciate in the maximum way. This gave a big change to the trajectory of my life.
You stayed in the hospital for over a month, how were you hospitalized, with what concerns?
Dizdari: I can not talk about this part. It is Adriana that was my conscience, it was the will, it was the approval, it was Adriana's absolute decision. She had a special belief in my strong will and character, but they were not enough in front of her firm. The firm was needed.
You mean, like, saltines and their ilk, eh?
Dizdari: For the difficult intervention and whatever measures the doctors took, they agreed.
Mr. Dizdari, were you hospitalized with heart or lung problems, were you affected by COVID, or was there something else? What do doctors say about this?
Dizdari: My conscious life while I was in Ksamil comes to the door when the bandits forcibly entered me. At that time when they broke the law, they broke every institutional relationship, when they did not respect anything, at that time I was very shocked because I was and remain a great coward against the law. I know the law is good for everyone, but it is difficult for everyone. There is no selection of the law. I was fine by then. I did all my work, my tasks, I did a very intense artistic activity. After that day only Adriana can tell you.
What do you remember from those first moments when you were conscious, could you see, hear and understand what was happening around you after you had gone through this state?
Dizdari: I can remember with great respect the doctors of Shefqet Ndroqi Hospital, who were really a brilliant society of doctors and nurses, sanitary workers, everyone. The day I came out that nurse tore so many tears. Why should she cry for me ?! An extremely communicative relationship was established and I had nothing to do with any of them. But in the center of attention I had one thing, I had this look, I had it all in sight. Because I had in my mind, until the moment when I was knocked down and the center was fixed on my face with all this that I am showing./BW